See Naturi Naughton's Gorgeous Pregnancy Shoot
The actress said the theme is an ode to Black culture.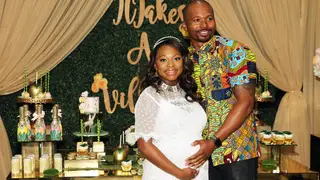 Naturi Naughton is gearing up to become a mother for the first time, and in celebrating this beautiful moment, the Power star's taken some beautiful photos with her boyfriend, Ben, with a gorgeous African theme in mind.
"We always try to incorporate African proverbs or Kente cloth or use different images to celebrate this beautiful Black girl that's coming into the world," she told Essence about the shoot.
Take a look at the stunning images, below:
2017 is turning out to be an eventful one for the actress as, in addition to gearing up to welcome her first child into the world, she is also preparing for the return of her wildly popular Starz drama, Power.
Speaking on the space she's currently in, the former 3LW star said she believes motherhood is the role she's been preparing for her whole life.
"I feel really happy; pregnancy has been good to me," she told Essence. "I'm in love, I'm looking forward to just sharing this next level of life. My whole life has been about working and being in the girl group and being on stage and being an actress, but now I get to really enjoy a bigger purpose, which is motherhood, so I'm really excited."
Recap the moment the actress first announced her pregnancy with BET Breaks, above.