Vanessa Bryant Delivers Heartfelt Gift to USC Basketball Teams
New season, new Nike Kobe 6 performance retro "Reverse Grinch" sneakers.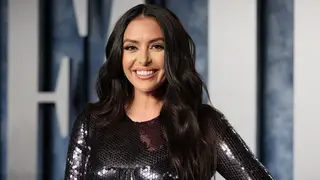 Vanessa Bryant put on her Santa hat a little early this year.
On Monday (Nov. 6), the men's and women's basketball teams at the University of Southern California were given a special gift from the wife of the late Kobe Bryant.
Bryant, mother of Natalia Bryant who is also a junior at USC, gifted the school's basketball teams with pairs of Nike Kobe 6 performance retro "Reverse Grinch" sneakers ahead of the new college basketball season. The women's team opened their season with a win over Ohio State on Monday, while the men's team will start their season on Thursday (Nov. 9).
LeBron James' son, Bronny, was among the athletes who received a pair of the sneakers.
The Kobe 6 "Grinch" sneaker made its debut during the 2011 holiday season. Sneaker News notes that its design drew inspiration from the Green Mamba snake, paying homage to Kobe's Black Mamba alter-ego. A performance retro version, known as the "Protro," was launched on Dec. 24, 2020, arriving less than a year after Kobe's passing.
USC Hoops posted the players' reactions as they received Bryant's generous gift on X (formerly Twitter). The caption read, "New season, new kicks. Thank you Vanessa Bryant and The Mamba & Mambacita Sports Foundation for your support."
Kobe Johnson, the star guard, pretended to use his Nike sneaker as a phone to call Bryant:
"Hey Vanessa, it's Kobe Johnson from the USC Men's Basketball team," Johnson said. "I just wanted to say thank you a whole lot for the shoes that you gave us. We appreciate it a lot. We're ready to go into the season with them and start killing, so, once again, we appreciate you a whole lot. Can't wait to see you."
USC captain Boogie Ellis joined in on giving Bryant her flowers: "I would like to say thank you. We truly appreciate you for your support," he said. "Fight on, and appreciate the shoes."
"Game day kicks ready to rock. Appreciate the support from Vanessa Bryant and The Mamba & Mambacita Sports Foundation," reads the USC women's basketball team's X post.
As seen in the video on X, USC head coach Lindsay Gottlieb presented her team with the surprise. "We have a special gift that arrived today from none other than Vanessa Bryant," Gottlieb said as her players cheered.
Guard Aaliyah Gales and forward McKenzie Forbes grinned from ear to ear as they showed off their kicks.