CBS Renews Queen Latifah's 'The Equalizer' For Two More Seasons
The drama is the #1 scripted show on Sunday nights.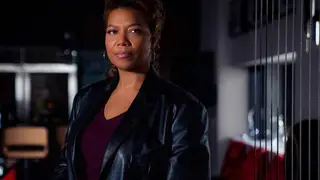 Queen Latifah has been serving up hits since she dropped her debut album, All Hail the Queen, in 1989. Since then, Latifah has gone on to build a massively successful entertainment career, clocking hits on the big and small screen as well as on the musical charts. After first landing a TV starring role back in 1993 with Living Single, Latifah returned to primetime with the CBS drama, The Equalizer.
The show, which is the remake of the original 1985 TV series and Denzel Washington's Equalizer film franchise, first debuted in 2021 and quickly became a hit. Currently, it's Sunday night's #1 scripted series, averaging 9.46 million viewers each week.
"The Equalizer continues to pack a powerful punch on Sunday nights, and we're thrilled to have it back for two more seasons," Thom Sherman, senior executive vice president of programming at CBS Entertainment, said. "The success of The Equalizer is due to the sum of its parts – an outstanding cast led by the superb Queen Latifah, plus the exceptional creative team that has continued to evolve their storytelling with a compelling mix of everyday justice, family dynamics and real-world issues that connect and resonate with audiences."
Queen Latifah, who serves as both the star and executive producer on the show, said she's excited to continue to "take topics that were ripped from the headlines and really deal with them."
In addition to Latifah, The Equalizer stars Lorraine Toussaint, Tory Kittles, Adam Goldberg, Liza Lapira and Laya DeLeon Hayes.