You Won't Believe Who Kevin Durant Is Reportedly Dating
This is peak cuteness.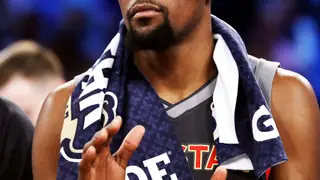 As Kevin Durant prepares to retake the court after healing from his injury, news has broke that he may have taken advantage of his time off the court to find a new romance. 
According to Terez Owens, a source close to the NBA All Star says Durant has been dating Warriors sideline reporter Rosalyn Gold-Onwude.
According to Owens, "KD is seeing Rosalyn Gold-Onwude under the radar–since she is sideline reporter for GSW. She's very pretty and they have a special chemistry when you see them, plus all his boys follow her on Instagram."
Not only is she a pretty face, she could also likely give Durant a run for his money, as Gold-Onwude is a former baller herself, playing her college hoops at Stanford.
As Durant and the Warriors prepare to win their second championship in three years, we hope Durant's newfound romance doesn't distract him. 
See more NBA news with BET Breaks, above.