Nipsey Hussle To Receive Posthumous Star On Hollywood Walk Of Fame
The deceased rapper will also have an LA Metro Station Named After Him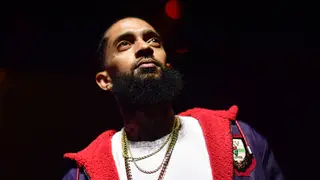 CBS Los Angeles reported that Hyde Park will be naming their K Line Metro Station in the Crenshaw after the rapper, calling it Nipsey Hussle Square.
The new metro is one of eight stops along some of the oldest communities in Los Angeles.
"From Slauson all the way to Vernon, you will see world-class pieces of art celebrating the history and legacy of African American people," said LA city councilman Marqueece Harris-Dawson.
"Everyone who comes to LA and rides the train out of the airport is going to see it."
According to the Walk Of Fame website, Hussle will always be joining other famed stars on the Hollywood Walk Of Fame as he will be receiving his own star and the ceremony is set for August 15th according to Karen Civil's Twitter account.
This date is significant as the musician would've turned 37.