DJ D-Nice Partners With Houseparty App For Epic Virtual Prom
You can still experience prom doing the COVID-19 outbreak.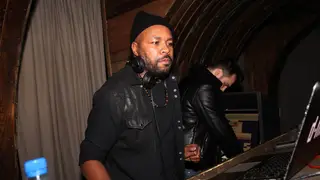 DJ D-Nice's "Club Quarantine" parties have given people some much-needed joy during the coronavirus pandemic. 
Now, the celebrity DJ is taking his parties to the next level by teaming up with the Houseparty app for a virtual prom.
According to Houseparty, the virtual prom will take place on May 7 from 8 to 10 PM ET. Users will be able to take prom photos and get two hours of DJ Nice spinning all the hits. 
And DJ D-Nice has been doing positive things with his "Club Quarantine" parties beyond just spinning great music.
On March 25, he partnered with former First Lady Michelle Obama for a voting initiative called  "Couch Party: A Voter Registration Live Set." Via Outvote, they received text messages from 407,824 eligible voters and helped nearly 13,000 people start or complete the voter registration process, according to When We All Vote.
Keep up the great work, D-Nice!