Nelson Mandela's Grandson Responds To Meghan Markle's Wedding To Freedom Comparisons
Zwelivelile "Mandla" Mandela said the two global events "cannot be equated to as the same."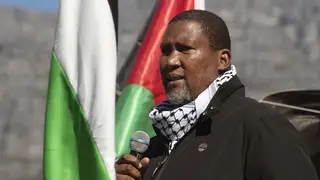 A grandson of the late South African Activist, Nelson Mandela, is slamming Meghan Markle for recalling a time when someone tried to compare her royal wedding to his grandfather being from prison.
According to Daily Mail, Zwelivelile "Mandla" Mandela shared with the outlet the two global events "cannot be equated to as the same."
"Madiba's celebration was based on overcoming 350 years of colonialism with 60 years of a brutal apartheid regime in South Africa," said the member of Parliament and chief of Nelson's Mvezo.
His criticisms of the Duchess of Sussex come after a recently published profile the 41-year-old did with The Cut where she shared that she was once told that public reactions to her internationally broadcasted marriage ceremony to Prince Harry was on a similar scope to Nelson Mandela being freed from prison.
"He looked at me, and he's just like light. He said, 'I just need you to know: When you married into this family, we rejoiced in the streets the same we did when Mandela was freed from prison,'" she recalled, saying that the incident happened back in 2019.
For Zwelivelile, the rejoicing of his grandfather's release was more significant than her union "to a white prince."
"We are still bearing scars of the past. But [Nelson Mandela's celebrations were] a product of the majority of our people being brought out onto the streets to exercise the right of voting for the first time," he said.
Markle and her husband Harry honored the historical icon with an appearance at United Nations headquarters in New York City to celebrate Nelson Mandela Day last month.
​​The anti-apartheid activist was South Africa's first president and served his term from 1994 to 1999 after serving a 27-year-long imprisonment for his political ideals. He died on Dec. 5, 2013, at the age of 95.