Department Of Education Opens Probe Into Harvard's Legacy Admissions Policy
Diversity advocates are challenging admissions practices that benefit White applicants after the Supreme Court outlawed affirmative action.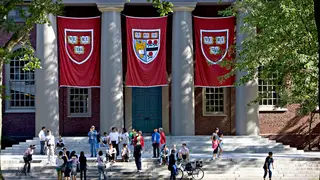 The U.S. Department of Education launched a civil rights investigation into Harvard University's legacy admissions policy that opponents say violates the U.S. Supreme Courts' landmark ruling in June that struck down race-conscious college admissions practices.
Federal officials notified the nonprofit group Lawyers for Civil Rights Monday (July 24) that the department is looking into its civil rights complaint, the Associated Press reports.
Filed on behalf of Black and Latino groups in New England, the complaint alleges that Harvard's legacy admissions practice discriminates against students of color by favoring mostly White children and grandchildren of alumni.
According to the group's data, legacy students are seven times more likely to be admitted to Harvard, represent about a third of each year's class, and 70 percent of them are White.
In response, Harvard said it is reviewing its admission policies in light of the high court's ruling.
"As this work continues, and moving forward, Harvard remains dedicated to opening doors to opportunity and to redoubling our efforts to encourage students from many different backgrounds to apply for admission," a Harvard spokesperson said, according to the AP.
NAACP President and CEO Derrick Johnson said, "Let's be clear - legacy and donor admissions have long served to perpetuate an inherently racist college admissions process. Every talented and qualified student deserves an opportunity to attend the college of their choice. Affirmative Action existed to support that notion. Legacy admissions exist to undermine it."
Harvard and the University of North Carolina were at the center of the legal dispute over race-conscious admissions policies aimed at increasing diversity in the study body. The ruling involved a Harvard University group calling itself Students for Fair Admission, which accused the school of holding Asian-American students to a higher educational standard than it does African American or Latino students.
After the high court outlawed race-conscious admissions, opponents pointed to legacy admissions as a violation of the controversial ruling that conservatives widely supported.
The New York Times reported that a 2018 study by Inside Ed found that 42 percent of private universities, including the nation's elite institutions, give an admissions boost to the children and grandchildren of alumni, while only 6 percent of public colleges apply the preference.
In the aftermath of the court's ruling, several colleges, including Johns Hopkins, announced an end to legacy admissions.