Rapper Daz Dillinger Announces His Retirement
He signed with Death Row Records when he was 19 years old.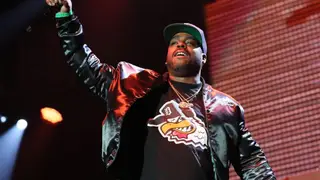 Death Row recording artist and cousin of Snoop Dogg, Daz Dillinger, is officially retiring from hip hop.
On June 25, the 49-year-old made the announcement on Instagram and appeared to be voicing some frustration with the current state of music, "This Legend Has Officially Retired Since 2022. Not My Problem Anymore," a photo read.
The caption stated, "IM DONE RAPPIN CUZ ITS OVER FOR ME. IT WAS NICE WHEN IT WAS [FIRE] BUT ITS NOT FUN NO MORE. SO IMA CALL IT QUITS. THIS MY LAST POST."
Daz Dillinger was signed to Death Row Records when he was only 19 years old. He worked on Dr. Dre's iconic album The Chronic and formed the group Tha Dogg Pound with fellow rapper Kurupt. Their biggest hit came in 1995 with "Let's Play House," which featured Michel'le.
Dillinger eventually went solo and formed his own record label. His last solo release was ​​2018's Smoke Me Out, however, he has since collaborated with other artists like Capone.