Chris Brown Sued For $50 Million By Ex-Housekeeper
She's suing for emotional distress, loss of income, and pain and suffering after an alleged dog attack.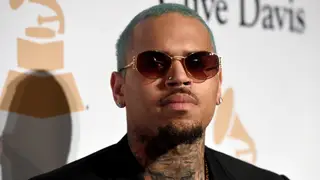 A housekeeper for Chris Brown has filed a $50 million lawsuit against the R&B artist after claiming she was attacked by his Caucasian Shepherd Ovcharka dog at his Tarzana, California home in December 2020.
According to Radar Online's March 1 post, the woman filed the suit under the pseudonym Jane Doe, and is seeking $20 million for pain and suffering, $20 million for emotional distress, and $10 million for loss of income. The lawsuit details what happened during the incident and maps out her reasoning for the financial damages.
The unnamed housekeeper claims that while working at Brown's mansion his dog Hades got loose and attacked her and ripped off chunks of skin from her face and body. According to the American Kennel Club, this specific breed of dog can weigh as much as 200 pounds. Brown also previously posted a picture of him on his Instagram account.
The lawsuit also claims Brown misled authorities on the nature of what happened, stating he had no idea the attack took place before first responders arrived. This is despite him coming out and allegedly seeing Jane Doe in a pool of her own blood, and instructing his team to "take the dogs before the cops arrive."
Jane Doe reportedly said she's already spent $24,000 on medical expenses and believes she'll spend another $400,000 in the future. Additionally, she claims she will lose $550,000 after the dust from the lawsuit settles.
Chris Brown hasn't yet responded to the lawsuit.