Irish Grinstead of R&B Group 702 Dead at 43
No cause of death has been announced in the singer's passing.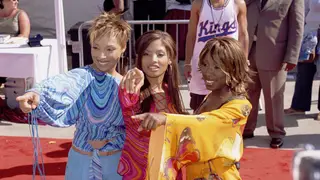 Irish Grinstead of the popular 1990s R&B group 702 died Saturday evening at the age of 43. Her sister and fellow group member Lemisha Grinstead announced her passing on Instagram.
"It is with great sadness that I have to let you know that my beautiful sister and friend has passed away this evening," Lemisha wrote. "She has had a long battle and she is finally at peace. That girl was as bright as the stars! She was not only beautiful on the outside, but also within. Sharing the stage with her was a joy I will cherish for the rest of my life! We, the family ask for prayers and respect for our privacy as we grieve an outstanding loss to our family."
The post garnered messages of condolences from fellow stars, including Da Brat, Tamar Braxton and Missy Elliott.
The group released its debut album, No Doubt, in 1996. The album featured the single "Steelo," which also was used as the theme song for Nickelodeon's TV series "Cousin Skeeter."
In 1999, 702 released its eponymous second album, which featured the hit song "Where My Girls At." The third album, Star, featured the hit single "I Still Love You," produced by Pharrell Williams.
The most recent 702 lineup consisted of the Grinstead sisters and Kameelah Williams. According to The Hollywood Reporter,  the group announced in December 2022 that Irish was taking a "medical leave of absence due to serious medical issues."
The group recently reunited after a hiatus of more than a decade, appearing on the 2021 reality series "BET Presents: The Encore," which followed nine former girl group members as they attempted to form a supergroup and create an album in 30 days.
During the group's peak, 702 was nominated for an American Music Award, a BET Award, and several Soul Train Lady of Soul Awards, including best R&B/soul album of the year by a group, band or duo for No Doubt.