Ice Spice Nearly Burned by Stage Pyrotechnics During Australia Show
Check out the potentially dangerous moment.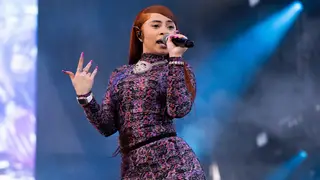 Ice Spice lit up the stage – and almost herself – during a recent performance in Sydney, Australia.
During her performance of her single "Princess Diana" on Monday (Sept. 30), the Bronx native turned to her now-famous twerk dance just as pyrotechnic effects erupted nearby. However, as Ice Spice executed her dance moves, the flames dangerously came close to torching her rear end. The rapper, visibly shocked, let out a "Hold up. Whoa!" as it happened.
The "Munch" emcee uploaded the clip to her Instagram account, along with several photos of her backside. She captioned the post, "Swipe to see pyro take me tf out."
Fans, seemingly happy to see their favorite artist safe, made light-hearted jokes about the incident, including one X/Twitter user who wrote, "You was finna be water spice if you were closer hunni."
Later this month, Ice Spice is set to grace more stages as she joins forces with Florida-based rapper Doechii, opening for Doja Cat's The Scarlet Tour. The 24-date tour kicks off on Halloween night in San Francisco and will run through Dec. 13, concluding with a final show in Chicago.