Kenny Leon: 'Tupac Belongs With August Wilson and Shakespeare'
Holler If Ya Hear Me director on the rapper's lyricism, talent.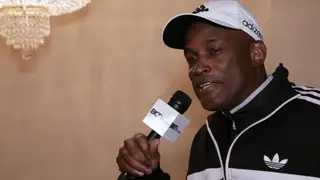 Kenny Leon's journey from a young boy growing up on Miccosukee Road in Tallahassee, Florida to becoming one of the foremost American directors on Broadway is the story that could inspire the kinds of musicals he directs. But Leon instead chooses to channel his experiences into productions that bring down the house.
Leon, who most recently helmed the Tony-nominated revival of A Raisin in the Sun and the Tupac-inspired stage musical Holler If Ya Hear Me, takes a break from his demanding schedule to talk to us about diversity on the Great White Way, being inspired by Tupac and his thoughts on why Raisin star Denzel Washington was snubbed for a Tony nod this year.
"America is for all of us. It doesn't belong to any particular group," says Leon when reflecting on his journey from poverty to fame and acclaim, which includes eight Broadway productions and his most recent, Holler If Ya Hear Me. "If this goes up and does well, it will send a message to African-American, Latino and other artists of color to bring their work to Broadway," he says.
Despite showcasing the music of late rapper Tupac Shakur, the production is "not biographical at all," explains Leon. "It shows the love of family, of country and of community. If you really take a microscope to Tupac's writing you will see a love and respect of women."
Indeed, Leon has heaps of praise for Tupac, his muse for this particular story. "He is a great American artist," says Leon. "He belongs in the army of writers with August Wilson and Shakespeare even."
To hear Leon talk more about Holler If Ya Hear Me, his feelings on this year's Tony nominations (he recieved a nod for Best Director) and the moment he fell in love with Broadway, watch our exclusive video below.