Democratic Socialist India Walton Stages Upset In Buffalo, N.Y. Mayoral Race
The Democratic Socialist will become the first woman mayor of New York's second largest city.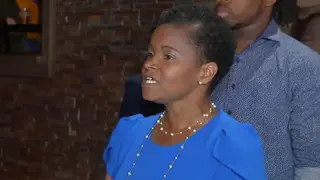 In a surprise upset, activist India Walton is set to become the first woman mayor of Buffalo, N.Y., defeating the city's first Black mayor, four-time incumbent, Byron Brown, in her bid for the seat.
Running as a Democratic Socialist, Walton will face no Republican challenger in the general election, so the path is set for her to take the seat this coming November.
In an emotional phone call with her mother, Walton shouted, "Mommy, I won. Mommy, I'm the mayor of Buffalo. Well, not until January, but, yeah."
She ran on a decidedly progressive platform. Among her promises were to reduce Buffalo's policing budget by $7.5 million by making it so that police won't respond to mental health or minor traffic calls. In addition, she wants to implement sanctuary city protection for undocumented people.
Walton, who became a working mother as a teenager, was among the voices criticizing Brown last year when a 75-year-old man was knocked to the ground by Buffalo police during Black Lives Matter protests, resulting in a month's stay in the hospital. She said Brown wasn't doing enough to "advance the quality of life for poor and brown people and hold police accountable."
A triumphant Walton told her supporters that this is their moment to claim what is rightfully theirs, and that the government should work for all its people.
After her victory, Walton tweeted out her thanks to those who stood behind her as well as the New York Working Families' Party.
With Walton assuming the mayoral role after the November general election, it will mark the first time in more than 60 years that the U.S. had a Socialist mayor of a major city. That was when Milwaukee mayor Frank Zeidler served from 1948 to 1960. She also continues a strong trend of the city electing Democratic mayors Her chances are strong. Buffalo hasn't had a Republican mayor since Chester A. Kowal took office in 1962.  
New York City Rep. Alexandria Ocasio-Cortez tweeted out her support after the win.