At The 2018 Oscars, Viola Davis And Her Fro Ponytail Snatched All Of White Hollywood's Edges
Mary J. Blige, Danai Gurira, Lupita Nyong'o, Viola Davis and more made sure it wasn't #OscarsSoWhite again this year.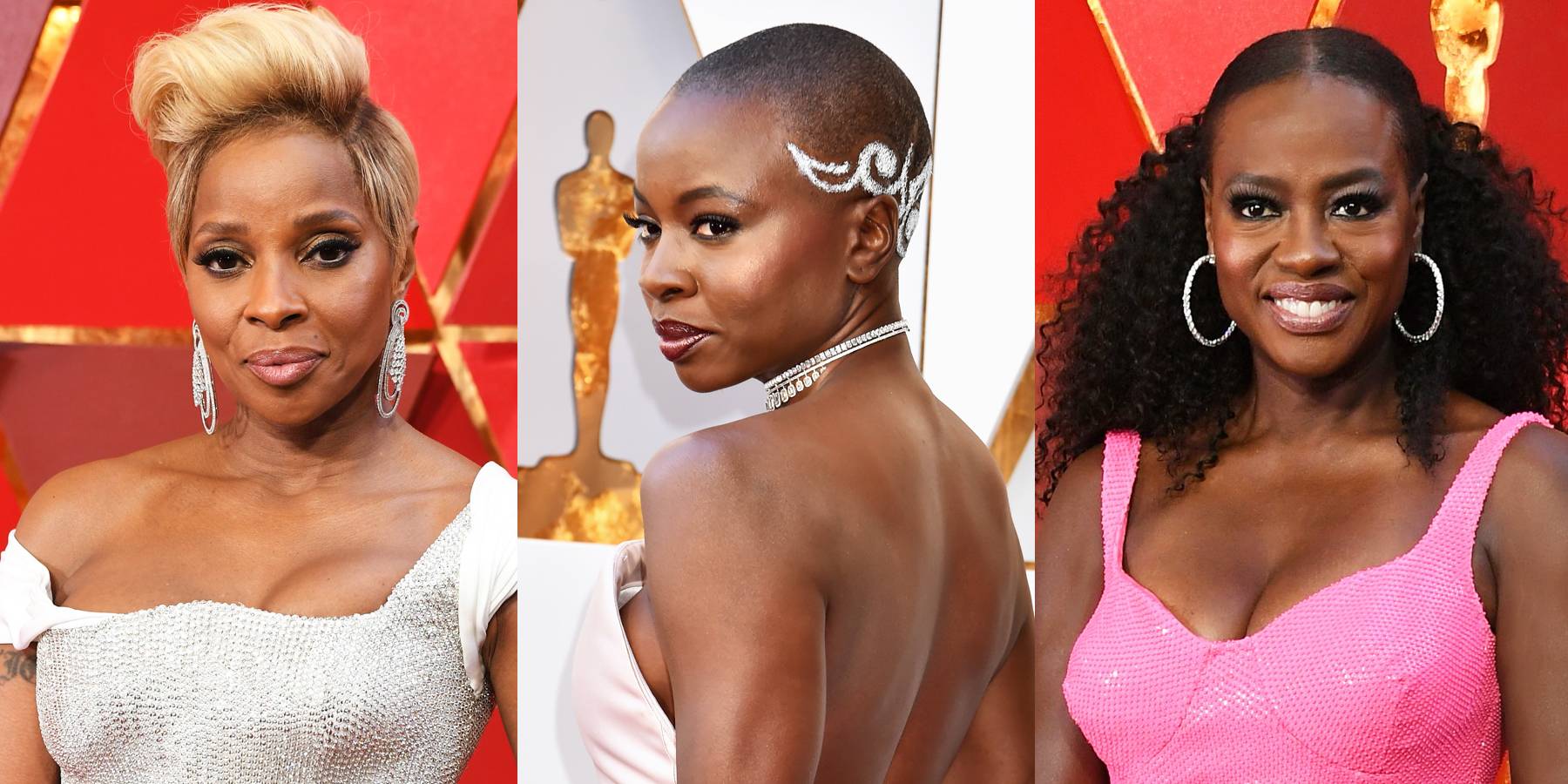 Last night's red carpet was an explosion of #BlackGirlMagic from every angle. Your faves turned up the volume on what "standard" beauty looks like. From Danai's tribal-inspired buzz cut to Viola's larger-than-life 'fro ponytail, Black Hollywood was in full effect.
Keep scrolling to see just a few of our favorite looks of the night. Let us know who you think slayed the awards best this year!
Mary J. Blige

Our girl Mary was looking white hot last night in a regal Atelier Versace gown. She took a break from longer lengths and hit us with a blonde pixie that showcase her flawless face, beat by D'Andre Michael for Marc Jacobs Beauty.

"I wanted to go with an old Hollywood look because Mary has such beautiful features like starlets from that time – high cheekbones, full lips, a bright smile and deep set eyes. The look is all about glowing skin and striking eyes – a look that is glamorous yet simple and elegant," he shared.

We also loved that the Queen of R&B soul was rocking KISS Salon Acrylic Natural Nails in Forbidden ($4.99) slayed by the one-and-only celeb manicurist Kimmie Kyees. "She chose a beautiful antique golden brown color, which complemented her had multiple changes of the night. The color looks so beautiful with her skin tone," shared Kimmie. 
 

Taraji P. Henson

Just because she's rocking custom Vera Wang and Jimmy Choo shoes doesn't mean that Taraji's not humble. The Proud Mary, Hidden Figures and Empire star unveiled her secret to a healthy glow: good 'ole Vaseline.

"Because Taraji's dress was Grecian and flowy, and showed lots of skin, I wanted to make sure she was glowing and moisturized from head to toe! I used Vaseline Intensive Care Cocoa Radiant Lotion ($3) – made with deep healing moisturizers and Vaseline jelly, it was the perfect choice to show off her healthy, luminous skin," explained celebrity makeup artist Ashunta Sheriff.

We also loved that Taraji opted to return to her razor sharp bob—a signature we can't get enough of— styled by Tym Wallace using Oribe Hair Care. For added shine and finish, he used Oribe's Gold Lust Nourshing Hair Oil ($55). 

Zendaya Coleman

At just 21 years old, Zendaya has solidified herself as a style chameleon on (and off) the red carpet. All eyes were on her as she arrived in a flawless, chocolate chiffon gown dripping in diamonds.

"We ultimately landed on a sleek and chic top knot to enhance the elegant silhouette created by her Giambattista Valli dress," shared Unilever Hair Expert, Ursula Stephen. "I finished the look with TRESemmé Compressed Micro-Mist Hair Spray Hold Level 2: Smooth ($4.99) to keep strands sleek and in place all night, without the stiffness and crunch of a traditional hair spray."

Viola Davis

Before we get into the beauty portion, let's just say #BodyGoals! Viola came to slay in a bubble-gum pink Michael Kors Collection dress and super-toned arms.

We love how Viola's hairstylist, Jamika Wilson, has consistently created jaw-dropping natural hair looks for the How To Get Away With Murder star.  The latest? A slicked back, middle part, fro ponytail with billowing curls. It's the perfect follow-up to her Golden Globes afro. 

"I love how versatile ponytails are, plus they work for any hair type," explains Jamika. "You can go elegant, glam it up, give sexy low pony, or even be flirty. The style gives you options depending on your mood and look." 

"Viola's dress was definitely my inspiration for the hair. I decided on a middle part for a sleek elegant look while keeping it sexy. And, to add a bit of fun with the loose curls in the back adding texture."

Lupita Nyong'o

"Lupita's look was inspired by images of Amasunzu hairstyles, which are traditional to Rwandan culture," explained hairstylist Vernon François. "We wanted something clean and sculpted to accent her dress and showoff the neckline." To complete the look, Vernon weaved a gold thread through her hair using a classic stitch technique for a touch of glamour—and shine."

She also worked with her longtime makeup artist Nick Barose to create an "Egyptian Blue" vibe utilizing an assortment of Lancôme products. 

Janet Mock

Wow! That's the first thought that crossed out mind when trans activist Janet Mock hit the red carpet. Basically, this is the wedding day look of our dreams courtesy of designer Christian Siriano, hair master, Kiyah Wright, and makeup artist Sam Visser. Stunning is clearly an understatement.

"To get her look, I added an few clips ins for little more fullness," Kiyah shared via e-mail. "I am never really big on tons of products, so we just used a little Muze Hair Last Look Hairspray ($14.99) to set each section before using a small 1/3-inch size curling iron all over. After I finished curling her hair, I brushed out each curl to give a very fluffy look and sculpted the front into a finger wave."

Octavia Spencer

The Shape of Water actress kept her look super elevated by keeping the focus on her stellar emerald green Brandon Maxwell gown. "Octavia had sent me the sketch of her dress earlier this week, which helped spark my inspiration for tonight's look," shared stylist David Stanwell for Dove Hair.

"Instantly, I knew I wanted to do a side part so that one side was off the shoulder to compliment her dress and jewelry – Octavia liked the idea of a curl, but not too brushed out."

danai gurira

Like her Black Panther cast mate Lupita, Danai also chose to make a bold red carpet statement last night. Her stylist, Vernon Scott, said, "the inspiration for Danai's hair, was derived from ancestral African face paint."

He achieved this by first cutting her hair with a straight razor with a custom design template. "By making the design higher than the rest of her cut (more volume), I figured how to intricately apply a white color without dying or using a spray." Next, he filled in the design with a white eyeliner crayon by Lancôme ($26) before finishing it off with TRESemmé Extra Hold Hair Spray ($4.29) to prevent smudging. One word: EPIC. 

betty gabriel

It's safe to say that Betty stole the spotlight from the rest of her Get Out co-stars. She made quite the splash in a Tony Ward couture gown featuring a plunging neckline, floral accents and dramatic train. 

"I really just wanted Betty to look fresh and flawless; since the dress made such an incredible statement, I didn't want her makeup to compete with it," shares makeup artist, Anton Khachaturian. "I went with golden tones for her eyes and cheeks and kept her lips simple and hydrated." Such a fantastic Oscars debut!