Howard University Esports Team Wins $80K Top Prize At HBCU Tournament
The organizers are on a mission to promote racial diversity in the lucrative gaming industry.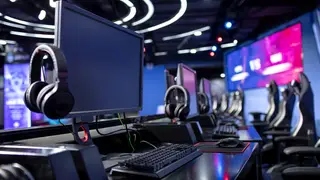 Howard University's esports team brought home the $80,000 top prize at the 2023 Mountain Dew Real Change Challenge tournament held February in Atlanta, the university's newspaper The Hilltop reports.
The Bison team, dubbed "Cold Steel,"  displayed its resilience and determination to win the tournament that began in November, as Cold Steel squared off against other talented HBCU programs. Deante Taylor, a senior marketing major, told The Hilltop that the team "had no proper system setups, no proper equipment. We were even on dorm Wi-Fi" in the first round of the tournament.
But the tournament was about more than dividing the prize money pool, which totaled $500,000, to Black college students.
The organizations are also committed to promoting racial diversity in the multi-billion-dollar gaming industry that draws millions of fans around the world to watch video game competitions. CNBC reports that only 2 percent of developers are Black while 69 percent are white.
"Unfortunately, Black representation within esports and the gaming industry is disproportionately low. MTN DEW recognizes the opportunity gap that Black gamers face as they explore gaming as a viable career path, and we're trying to close that gap with the MTN DEW Real Change Challenge," Pat O'Toole, Mountain Dew's chief marketing officer said.
Cxmmunity Media, a media-tech company building digital assets with a mission to future-proof diversity in gaming, founded the HBCU Esports League. The league provides opportunities for HBCUs to compete and showcase their skills in esports.
"Howard's success was no surprise to me. The team bought in immediately," Christopher Peay, chief marketing officer for Cxmmunity Media and HBCU Esports League, told The Hilltop.
He applauded Howard for making its staff available to the team. "Having the students is big, but having an active faculty advisor is really big. Howard definitely has that in Ms. Deborah Johnson," Peay added.
Cxmmunity and Verizon helped Howard to launch a new esports lab, which was pivotal to enabling Cold Steel to win the tournament. Howard's lab is one of 11 esports labs that Cxmmunity was involved in building.