Witnesses to Rayshard Brooks Shooting Called What They Saw 'Awful'
Michael Perkins and Melvin Evans say the last thing they expected when traveling from Memphis to Atlanta was a police killing.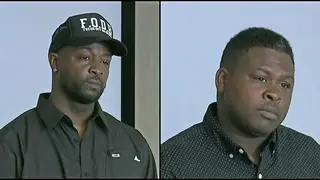 Two Black men traveling from Memphis to Atlanta to produce hip hop music say that instead of dropping beats, they witnessed the death of Rayshard Brooks at the hands of a police officer. Now, all they want to do is help his family get justice.
"We weren't in the lot three minutes before it occurred," said Michael Perkins, who was with his friend Melvin Evans in the drive-thru line at the Wendy's restaurant where Brooks was confronted by police. "We were the last car in line. When I seen [sic] him running, I heard the tasers. When I heard the shots, my first reaction was to duck."
Perkins and Evans said at a Thursday (June 18) press conference that they were in Atlanta to shoot a music video with rapper Pastor Troy and had just arrived in town. They left the studio where they intended to lay some music tracks when they decided to get some food and that's when they saw Brooks' fatal encounter.
Evans was driving a white Chevy Trailblazer with his girlfriend in the front seat and Perkins says he was riding in the back passenger seat. They heard three shots ring out, one of which struck his vehicle. The car's occupants were frightened and argued briefly about hurrying out of the lot, but Evans decided against it. 
"I said I'm not fixing to go nowhere with guns shooting," he said. "They'd probably think we were using the truck to hit them."
Watch Michael Perkins and Melvin Evans speak about their encounter below
Brooks, 27, was killed June 12 when he grappled with former Atlanta cop Garrett Rolfe and officer Devin Brosnan, who had detained him after a Wendy's worker called 911 when he had passed out in the drive-thru line from drinking. The officers held a 41 minute conversation with him until they tried to arrest him, which is when the situation escalated. Brooks escaped their grasp and had taken a taser from one of the officers. Video shows that when he turned around and pointed it in their direction, Rolfe opened fire, striking him in the back twice, and killing him.
After the gunfire ended, Evans said their group sped out of the lot and returned to the studio where they were producing music.
Rolfe was fired the next day and charged with 11 counts on Wednesday (June 17), including felony murder. Brosnan, who did not discharge his weapon, was also charged with three counts including aggravated assault. Both men have turned themselves into authorities.  Fulton County District Attorney Paul Howard recommended no bond for Rolfe and asked for a $50,000 bond for Brosnan.
Perkins said one of Rolfe's bullets hit the side of the SUV where he was sitting, but nobody realized it until they left and returned to the music studio.
"I just thought it wasn't necessary," said Perkins, objecting to Rolfe's use of force. "If he had the taser, why not just have a taser fight? I felt like it was awful. I've never seen anything like that in my life."
He says they are coming forward to help the Brooks family seek justice. "I feel troubled about it but I'm glad the family is getting the justice it deserves," Perkins said.
Evans said that he took video of the incident after they left the lot. Shean Williams, the attorney representing the two men, confirmed that the video was turned in to the Georgia Bureau of Investigation.
Perkins said he and his friends are still reeling from the experience and did not expect anything like this to happen, given recent high profile incidents of fatal police shootings of unarmed Black men that have already occurred this year in other places.
"I don't know if they are trying to get us used to it, but it's so normal now," he said. "'I've heard of it in several states i just didn't know I would witness it myself."