Bill Maher Minimizes Jada Pinkett Smith's Alopecia, Tells Her To Put A Wig On
"I mean, alopecia, it's not leukemia," Maher said on his HBO talk show 'Real Time'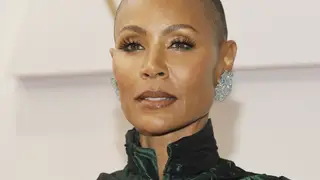 Real Time host Bill Maher shared his take on Jada Pinkett Smith's alopecia.
According to PEOPLE, Maher, 66, downplayed the 50-year-old actress' condition on Friday (April 1).
During the opening monologue for the HBO talk show Real Time, Maher said this:
"I mean, alopecia, it's not leukemia, OK? Alopecia is when your hair falls out… there are worst things."
Later on the show, with guests Andrew Lang and Laura Coates, he said that he believed host of the Oscars, Chris Rock, was wrong for his G.I. Jane 2 joke about Pinkett Smith — that was until he googled what alopecia was.
"If you are so lucky in life as to have that be your medical problem, just say 'Thanks God," he said. "It's not life threatening. It's part of — for most people, 80 percent of men, 50 percent of women — it's a part of aging."
Maher continued to downplay her condition and added, "just put on a f***ing wig like everybody else at the Oscars if it bothers you that much."
Maher joked that he didn't have much to say about Will Smith, noting "he gets enough [humiliation] at home."
In December 2021, Pinkett Smith said, "me and this alopecia we are going to be friends," likely coming more to terms with her condition, first announced during a 2018 episode of her Red Table Talk.
Watch the full clip below: