Who's The G.O.A.T.? N.W.A. & The Posse vs Soul Assassins | Round 1
In the tournament to decide the greatest rap crew of all time, this Round 1 battle is a matchup between N.W.A. & The Posse and Soul Assassins.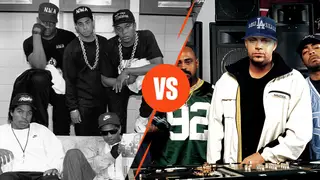 In recognition of hip hop's 50th anniversary, BET Digital in partnership with Ambrosia For Heads, is celebrating the culture by hosting a bracket-style competition that allows you to determine hip hop's greatest crew.
Rather than having "experts" tell you who is the greatest of all time, this is your opportunity to collectively make that decision. After giving the opportunity to any and all fans to provide feedback on which crews should be included, 32 collectives from different regions, styles, and generations have been selected—all vying for that #1 spot. When the final battle is over and the last vote is cast, you will have determined who is your Greatest Rap Crew of All Time.
The West Coast battles heat up with N.W.A. & The Posse versus the Soul Assassins crew. These collectives represent major movements in and around Los Angeles, with incredible production supporting accounts of street life, low-riding, and demands for the empowerment of under-represented communities. 
Both rooted in the 1980s, the Soul Assassins' run took shape just as N.W.A. & The Posse dispersed. N.W.A. & The Posse came to prominence with the release of its eponymous compilation album in 1987, which featured Eazy-E's seminal "Boyz-N-The-Hood" record. By 1992, most of the principal players in the crew had disbanded, due in large part to conflicts over compensation. 
In contrast, DJ Muggs, B-Real and Sen Dog's breakout came with the release of their eponymous "Cypress Hill" album in 1991, featuring the hit single "How I Could Just Kill A Man." Notably, N.W.A.'s Dr. Dre, Ice Cube, and MC Ren worked with members of the Soul Assassins crew during the 1990s (including the chart-topping hit "Check Yo Self"). While an ensuing misunderstanding between Cube and Cypress Hill was put to rest long ago, hip hop fans must choose between these crews over a quarter-century later. Only one of these West Coast contenders can advance to Round 2.
N.W.A.
N.W.A. & The Posse brought the boys from the 'hood to the mainstream. Starting with 1987's compilation of the same name, this crew contains the would-be group of Eazy-E, Ice Cube, Dr. Dre, MC Ren, DJ Yella, and Arabian Prince. The collective also involves The D.O.C., who worked with his crew-mates before his acclaimed 1989 solo debut, "No One Can Do It Better," featuring one of this collective's most excellent posse cuts in "The Grand Finale." Tragically, a car accident later that same year severed his vocal chords, cutting his rap career short. He continued utilizing his prodigious writing talents, penning some of hip hop's greatest hits. 
The gold-certified, Grammy-nominated J.J. Fad and Above The Law also added depth and range to this Greater Los Angeles-based squad. In less than three years, N.W.A. & The Posse made the city of Compton, California, one of the most famous places in hip hop and beyond. N.W.A. drew headlines and even the attention of the FBI with its song "F**k Tha Police," long before incidents of police brutality were being caught on camera. 
Years after its 1988 release, N.W.A.'s "Straight Outta Compton" debut rose from the ranks of independently released gangsta rap to the Library of Congress. Forever changed by the 1995 death of Eazy-E, members of this collective ultimately went in different directions. However, surviving members of this crew have reunited for several key moments and the production of their "Straight Outta Compton" Oscar-nominated biopic helped solidify its impact for a whole new generation of fans.
Cypress Hill
After a role as one-third of 1980s hip-hop trio The 7A3, producer and turntablist DJ Muggs mastered the art of reinvention with Cypress Hill. The collective of Muggs, B-Real, and Sen Dog kicked down a series of barriers in hip hop regarding cultural identity, production techniques, and lyrics about street life in Los Angeles. 
Becoming the first Latin hip hop group to do so, Cypress Hill's first two albums each marched to double platinum status. Between those two critically-acclaimed LPs, the visionary producer developed a super-crew that included other rebranded veterans House Of Pain and emerging L.A. outfit Funkdoobiest. Like Cypress, House Of Pain, the collective of Everlast, Danny Boy and DJ Lethal attracted Grammy nominations, including a "Best Rap Performance" consideration for the Muggs-produced mash-out anthem "Jump Around." By the 1990s, another act within the crew, The Whooliganz, introduced Alchemist, who would go on to make hits for some of the biggest artists in rap music, including Kendrick Lamar, Mobb Deep, Jadakiss and Benny The Butcher featuring J. Cole. The talented producer/MC emerged under Muggs' wing. Following the first of several star-studded compilations in 1997, Soul Assassins and its crew have further expanded into radio, merchandise, and video production.
In this celebration of hip hop and all of its talented crews, your vote decides the winner.
---
EDITOR's NOTE: Register for the sweepstakes for a chance to win the grand prize of (2) two tickets to the 2023 BET Awards,(2) two round-trip airline tickets, and a 2-night hotel stay on June 25. Up your chances to win by voting weekly.
NO PURCHASE NECESSARY TO ENTER OR WIN. VOID OUTSIDE OF THE 50 U.S. & D.C. AND WHERE PROHIBITED BY LAW. Open to legal residents of the 50 U.S. & D.C. who are 18 years of age or older at the time of entry. Ends at 12:00 p.m. ET on May 1, 2023. Official Rules: bet.com/grcoat-official-rules. Sponsor: Black Entertainment Television.