Minnesota AG Keith Ellison Attempting To Stop George Floyd Trial From Being Televised
He is concerned about the safety of witnesses.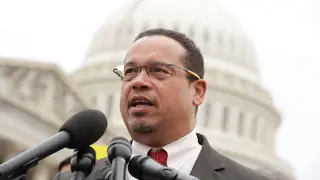 The George Floyd case is scheduled to go to trial in March and is set to be televised. However, Minnesota Attorney General Keith Ellison is asking a judge to stop the trial from being broadcast.
On November 4, Hennepin County Judge Peter Cahill ruled that case could be televised. According to KARE 11, Ellison sent a request to the judge to reconsider the decision.
The request read in part, "Ordinary citizens have been thrust into these proceedings simply because they witnessed George Floyd's death. They should not be forced to sacrifice their privacy or suffer possible threats of intimidation when they perform their civic duty and testify."
Ellison's office is also concerned televising the trial might make witnesses scared to testify. If the judge insists on broadcasting the trial, Ellison recommended just airing the opening and closing arguments.
On May 25, George Floyd died after Derek Chauvin pinned him down kneeling on Floyd's neck for nearly nine minutes. Two other officers helped while one stood by and watched. His death led to protests and demonstrations both in the United States and abroad shining a light on the injustices of Black men and women killed by law enforcement officers.
In June, Chauvin was charged with first degree murder, while the three other officers involved in Floyd's death — J. Alexander Kueng, Tou Thao and Thomas Lane — were charged with aiding and abetting second-degree murder and aiding and abetting second-degree manslaughter. All four officers were relieved from their positions at the Minneapolis Police Department.
All of the men are now out on bail. Chauvin is reportedly allowed to leave the state of Minnesota due to "safety concerns." The trial for all four men is currently scheduled for March 2021. It's not yet determined if all four will be tried together, or separately.
BET has been covering every angle of the police killings of George Floyd, Breonna Taylor, Rayshard Brooks and other social justice cases and the subsequent aftermath and protests. For our continuing coverage, click here.