Brittney Griner Timeline: From Russian Prison To Freedom
The WNBA superstar is finally released after nearly ten months in captivity but lived through a nightmarish ordeal.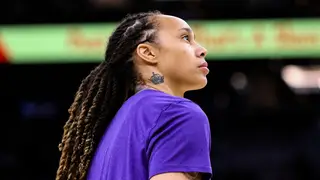 After being imprisoned for 294 days in Russia on drug charges, WNBA superstar Brittney Griner is returning to the U.S. While the details of her release are still emerging, it has been a horrific journey for Griner, who was detained amid tension escalating over the Russian invasion of Ukraine. Here is a timeline of Griner's journey to freedom.
Brittney Griner Arrested

On Feb. 17, the Phoenix Mercury center, who had been playing in the off season for UMMC Ekaterinburg in Russia, was arrested by the Russian Federal Customs Service at Sheremetyevo Airport near Moscow. Agents said they found hashish oil vape cartridges in her luggage. According to The Washington Post, she was charged with transporting a "significant amount," or 0.702 grams, of cannabis oil. By late March, a Russian court said Griner's detention had been extended to May 19.

Griner Classified As Wrongfully Detained

After months of calls for her release from the Congressional Black Caucus to the WNBA Players Association, on May 3, the U.S. officially classified Griner as wrongfully detained. According to CNN, the White House press secretary at the time, Jen Psaki, said the classification was made "in coordination with the hostage negotiator [Carstens] and the State Department." Later that month, reports emerged that the Biden administration was considering a prisoner swap, offering convicted arms dealer Viktor Bout.

Brittney Griner's Wife Sits Down For Her First Interview

On May 25, Cherelle Griner, Brittney's wife, spoke out for the first time in an interview with Good Morning America. She revealed to Robin Roberts that she was in communication with the Biden-Harris administration and said, "Every single day matters ... to make sure that she comes back."

Trial Scheduled

A Russian court on June 27 scheduled the trial of Griner to start on July 1, extending her detention for another six months, ESPN reported. Two days later, Cherelle Griner told Rev. Al Sharpton, "She's struggling. She's there, terrified. She's there, alone ... Everything about this is just her biggest nightmare, on top of the fact that BG is in a situation where this isn't even a trial ... Nothing about this is justice."

Testimony

On July 7, Griner pleaded guilty to drug charges. However, she has said the vape cartridges were in her luggage mistakenly, and she didn't intend to commit a crime. Griner also testified that she was made to sign documents that she didn't understand and that she used medical marijuana to treat a knee injury. On July 19, President Joe Biden signed an executive order aimed at securing the release of Griner and other Americans wrongfully detained abroad.

Convicted

On Aug. 4, the WNBA star was convicted of drug smuggling. Griner said in the city courthouse after the ruling, "I never meant to hurt anybody, I never meant to put in jeopardy the Russian population, I never meant to break any laws here." She was later sentenced to 9 years in prison, which Biden said was "unacceptable." Lawyer Maria Blagovolina and co-counsel Alexander Boykov, Griner's legal team, said the punishment was excessive, noting that in similar cases, defendants have received an average sentence of about five years, with about a third of them being granted parole.

Appeal Hearing

Griner's team filed an appeal with the looming threat that she would be transferred to a Russian penal colony, which has been described as "notoriously harsh." By Oct. 25, a Russian court rejected the appeal and upheld her sentence. According to The New York Times, Griner joined the appeal hearing through a video call from a Moscow prison and said, "I've been here almost eight months and people with more severe crimes have gotten less than what I was given."

Penal Colony

On Nov. 9, CNN reported Griner was transferred to a penal colony in the western Russian region of Mordovia. It took nearly two weeks for Russian officials to provide any information on her exact whereabouts. It was eventually revealed she was moved to Female Penal Colony IK-2 in Yavas, approximately 300 miles southeast of Moscow. Former inmates described the colony as "slave-like conditions" and "daily torture." It was unclear what it would take to win her release and she became increasingly concerned that she would not be freed.

Negotiations

Over the course of several months, U.S. Secretary of State Anthony Blinken, former New Mexico Gov. Bill Richardson and a group of others negotiated for Griner's release. Officials with the U.S. government told reporters that Russians were aimed at a prisoner swap between Griner and Bout. Biden called the process "painstaking" and "tedious," however officials were not able to secure the additional release of former U.S. Marine Paul Whelan, who has been imprisoned in Russia for the past four years on espionage charges.

Freedom

In the early morning of Dec. 8, Biden announced via Twitter that Brittney Griner was on a plane back to the U.S., "Moments ago I spoke to Brittney Griner. She is safe. She is on a plane. She is on her way home." He was joined in the Oval Office by Cherelle Griner, who in emotional comments thanked the president and his administration in working to secure a release.  I'm just standing here overwhelmed with emotion, but the most important emotion I have right now is just sincere gratitude to President Biden and his entire administration. He just mentioned this work is not easy and it has not been, there's been so many hands involved.