This Weekend: Here's What to Watch, Listen to & Experience
Spend time off with Vince Staples, Disney's newest superhero, and 2 Chainz.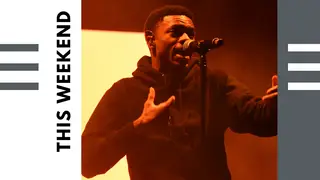 When it comes to content, it's easy for us to stick to what we know or want that old thing back. But for a rare few, being a true content connoisseur is about being on top of what's hot, what's trending, and what's next. Luckily, this new guide is everything for your music, literary, film, TV, and live experiences needs.
Each week, yours truly, Kevin L. Clark, will be your go-to advocate, spotlighting all those content cravings worth enjoying.
You're now tuned into This Weekend, a weekly round-up for content culture lovers and those who love to avoid FOMO.
For Friday, Apr. 1, this week's episode finds us with some freshly-discovered treasures for you, your family, and friends to get into and share with others. It contains a healthy dose of sonic vibes, this month's BET Amplified artist to know, and, of course, something streaming that's a feast for the eyes.
So bon appétit to all those true savants who are purveyors of content culture out there.
---
For Listeners Only:
Vince Staples has been able to use his foresight, sense of humor, and rap skills to become a beloved figure in hip hop. Next month, the Long Beach YG will release his new album Ramona Park Broke My Heart. He's already shown why he's a multi-talented force who's married to the game, and now, "Rose Street," a short yet focused diddy, is "not a love song" but a joint to add into your rotation. From quoting 'Pac's "Lord Knows" to keeping his "Crippin' intact" despite the traps America sets up for Black men, Staples' raps about surviving adversity will have you rooting for him over Tommy Parker and Saint Mino's production.
A personal fave and one of the most consistent rappers in hip hop, Denzel Curry lets off another chamber with his newest work, Melt My Eyez, See Your Future. A unique sonic experience, Curry already shared glimpses of his genius on songs like "John Wayne" and "Walkin," and now the 10th track on the album gets some spotlight. "Angelz," produced by Karriem Riggins and Mickey DeGrand, and featuring vocals by Bridget Perez, rap's favorite Florida Boy gives game as gorgeously introspective bars that will endear his style to listeners looking for new voices.
D Smoke continues to put in the work after concluding his first North American tour. "Crossover," the Westside Boogie-featuring song from War & Wonders, examines what happens when things go left and you only want to do right. Heavy with the horns thanks to J.Mo, Aabo, and Full Crate, Smoke and Boogie delivers a light, fun song with a message about how everything crosses over but you should "keep it Wood" no matter what. Always ready to hold his own, this song should be a catalyst for anyone who is looking to get their Allen Iverson on in their own respective lives.

Special Mentions: There is also some exceptionally dope work from the likes of Freddie Gibbs feat. Rick Ross ("Ice Cream"), They Hate Change ("Blatant Localism"), EARTHGANG ("Strong Friends"), and Mychelle feat. ENNY ("Forbidden Fruit") that you cannot afford to miss.
Watch The Streams:
The Marvel Cinematic Universe, nay, Multiverse has been ramping things up since the ending of the Infinity War saga. With Disney Plus entering into this new phase, the arrival of Moon Knight, both as a show and a superhero, finds audiences embroiled in a new adventure unlike any other. Starring Oscar Isaac as Steven Grant, he discovers that he is not just a mild-mannered gift-shop employee, but a person with dissociative identity disorder who shares a body with a mercenary named Marc Spector. This is already a show on many Blerds and TV fans' watch-list, so add it to your queue to watch this weekend.
Just when you thought you'd have to wait for one of the shining lights of the Netflix Original library to return — let the wait go on for no longer. Ozark, which has consistently ranked highly among the best shows on the streaming service, is in the throes of its final season, which was split into two parts, and not the second half of the seven episodes will be available this weekend. You won't read any spoilers here, so if you're not caught up in the Grammys hype then you'll enjoy watching everything Marty (Jason Bateman) and Wendy (Laura Linney) come asunder.
The quarantine inspired a host of filmmakers and actors to make projects that reflected the times and Judd Apatow's The Bubble falls right in line. The Netflix comedy, which stars Keegan-Michael Key, Apatow's wife, Leslie Mann, and Pedro Pascal, is an ensemble piece about a group of actors and actresses stuck inside a pandemic bubble at a hotel while attempting to complete an action-adventure sequel about flying dinosaurs. There is a lot of hooking up and melting down in this film, which promises a lot of laughs for when you tune in to watch during your downtime this weekend.
BET Amplified Artist of the Month Spotlight:
It is This Weekend's pleasure to announce BabyFace Ray as the BET Amplified Artist for April! The Detroit-based rapper has achieved national acclaim after releasing multiple, successful mixtape releases. Unf**kwitable, marked by his slice-of-life lyrics and guest features from EST Gee, Kash Doll, Wiz Khalifa, and Pusha T.

#TeamEastside is representing the right way as songs like "What The Business Is," "Champions," and "It Ain't My Fault," celebrated his Motor City ties, nonchalant, laid-back style, and his prolific output. As this month's BET Amplified Artist, be sure to keep an eye out for an exclusive interview with the artist and learn why the Billboard charting artist has big plans for his first decade of dominance.
Live at the Experience:
Detroit, Michigan is the home of techno, house, and dance music. For those who still need a history lesson, this year's Movement Music Festival is perfect to learn about how the Midwest was the originator behind the sound. Taking place Memorial Day Weekend (May 28-30) inside Hart Plaza, Juan Atkins, better known as the "Godfather of Techno," will host the pilgrimage that features three days of diverse curation and programming.

Over 110 announced acts ranging from Natasha Diggs and 2 Chainz to Soulection's Joe Kay and Flying Lotus, the 2022 Movement Music Festival is dedicated to bringing longtime audiophiles and true content connoisseurs a completely original musical experience. 3-Day and 1-Day Passes for both general admission and VIP are on sale now at www.movementfestival.com. If you're inspired to enjoy the wide breadth of artists on the bill, you can check out the full lineup, in alphabetical order by day
JORISSEN B3B LOREN B3B MATHIAS
CARL CRAIG B2B JAMES MURPHY (DJ SET)
FRANCOIS DILLINGER (LIVE)
JUAN ATKINS - 40 YEARS OF DETROIT TECHNO DJ SET
NANCY WHANG & PAT MAHONEY
SOUL CLAP W/ AMP FIDDLER (LIVE)
GOLDIE B2B LTJ BUKEM FT. ARMANNI REIGN
VINCENT PATRICOLA B2B JESSE CORY
---
Check back to BET.com and BET Digital for more weekly installments of This Weekend.
Kevin L. Clark is a screenwriter and entertainment director for BET Digital, who covers the intersection of music, film, pop culture, and social justice. Follow him on @KevitoClark.