Keke Palmer Reveals She Has PCOS And Bravely Reveals Photos Of The Severe Acne Breakouts It Causes
The 27-year-old opened up about her health condition on Instagram.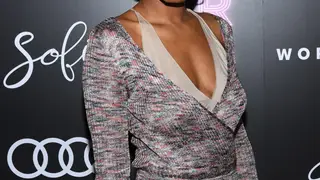 Keke Palmer has opened up about the culprit behind her constant skin breakouts in hopes of encouraging her fans to be their own health advocate.  
On Tuesday, the 27-year-old singer and actress posted a series of bare-faced photos on Instagram displaying her recent severe acne breakout.
In a lengthy caption, Keke detailed that despite seeking professional help for years, she eventually learned she suffers from Polycystic Ovary Syndrome (PCOS) via personal research. 
"For some of you this may be TMI, but for me my platform has always been used for things much greater than me," she wrote. "Polycystic [ovary] syndrome has been attacking me from the inside out my entire life and I had no idea."
For those who are not aware, Polycystic Ovary Syndrome is a hormonal disorder that causes enlarged ovaries and cysts. Symptoms of PCOS include acne, excessive hair growth, and weight gain.
Admitting that she "tried EVERYTHING" to minimize her skincare woes, Keke voiced her frustration that doctors didn't have an answer for her problem.  
"It took ME taking a personal look into my family that has a history of diabetes and obesity, to understand what was ACTUALLY happening with me," she said. "And unfortunately doctors are people and if you don't 'look the part' they may not think that's your problem. They may not even suggest it if you 'look healthy' whatever that means!"
Despite having acne, the Hustlers star later revealed she's not going to let it dampen her confidence.
"My skin has made me sad many nights, but I do not give up on myself. I know this is not me and my body has been looking for help," she said. "The least harmful thing PCOS can bring is acne."
She continued, "To all the people struggling with this please know you're not alone and that you are still so f---ing fine! MY ACNE AINT NEVER STOPPED ME. But we don't have accept this. Now I can really help KEKE! And I love her so it's ON."