Shocking Video Of Odell Beckham Jr. In Bed With Woman Next To Suspicious White Powder
The woman, who is an Instagram model, says the New York Giants Receiver didn't do any drugs.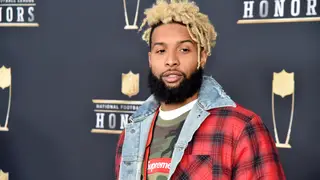 Odell Beckham Jr. is in hot water over video that puts him in close proximity with a white substance that is suspicious to say the least.
After the Internet did some investigating, it was learned that French Instagram model Laura Cuenca was in the video on a bed with the New York Giants Wide Receiver, pizza, and a white powder substance on a tray next to Beckham who was allegedly puffing a brown "cigarette."

Now, Cuenca is claiming that Odell didn't do any drugs. During an interview with the New York Post, she described what happened that evening.

"I do not remember all of the evening, only that we met in a bar and then found ourselves at a hotel and we had passed the night together," she said, then made the dispute over potential drugs in the room to the Daily News, "No. He did not take any drugs!" adding that what was in his hand was really "a piece of the pizza."

Cuenca says she met Odell Beckham at Le Queen nightclub and that he left for Madrid the next morning.

While she claims Beckham didn't do any drugs that night, the model did not respond to whether drugs were present in their hotel room.

It's still unknown as to who filmed the video, which was leaked Friday night (March 9). The Giants told ESPN they are aware of the video but didn't comment any further.