Leslie Jones Claps Back at Critics of Her Ghostbusters Character
People saying the role perpetuates stereotypes.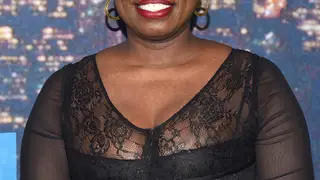 The upcoming all-female Ghostbusters reboot is intended to be an example of the new-and-improved Hollywood, one in which roles don't automatically go to white males, but the film caught some heat this week after a promo dropped that left some people with concerns.
The clip introduces the new Ghostbusters, played by Leslie Jones, Melissa McCarthy, Kristen Wiig and Kate McKinnon, but raises questions about why all the females except Jones portray scientists and Jones, the lone woman of color in the cast, is a sassy, neck-rolling MTA worker: 
Jones, who has been killing it on SNL lately, isn't here for the negativity, though:
This isn't the first time Jones has gotten some heat for pushing the boundaries of race relations in her work. But hopefully people will reserve their judgment for when Ghostbusters actually comes out on July 15.
Speaking of casting controversies, nothing can be worse than how it is for Zoe Saldana this week. Recap the latest drama around her upcoming Nina Simone biopic Nina with BET Breaks, below: