Al B. Sure! Was Hospitalized In A Coma For Two Months
The R&B singer is currently on the road to recovery.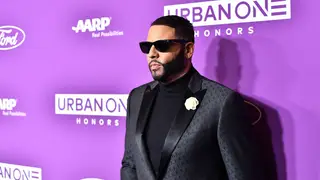 R&B singer Al B. Sure! is currently on the road to recovery after spending two months in a coma.
In a birthday post uploaded by his son, Al B. Sure Jr., on Sunday (Oct. 30), the 36-year-old thanked his followers for his birthday wishes but also took a moment to update everyone about the status of his father's health.
"Thank your every 1 for the bday wishes!! Been kinda out of it and in my own world!! @officialalbsure POPS BEEN hospitalized FOR 2 months and he just made it out!! So I'm much better and ready to get back on my sh*t! It's time to get the f*ck up pop!! We got Sh*t to do!!! And countries to visit! Thank u for all the concerns and worries about my family!," he captioned his post.
"Today is my day but this is for my pops! All I want for him is to get out that f*ckin hospital!! We need u big homie!! I love all of y'all! And appreciate all of u! And every 1 I touched and shared energy with around the world on my krazy journey! This for y'all!! And to my family I love y'all so much! Thanks for motivating me and making me feel loved always! And mom u are the greatest mom ever!!! And imma make u proud everyday! @anniemac1965"
Earlier this year, news broke that the New Jack Swing legend was undergoing surgery although details regarding the procedure were never revealed. The "Nite and Day" artist shared photos of his medical journey on Instagram and updated fans at the time that he had made it through surgery and was doing fine.
The 54-year-old gave his last update about his health back in August 2022.
"​​Grand Rising 🌞 #AlBeez 🐝 around the 🌍 I'd 1st like to say a very humble thank you for the prayers, positive thoughts and we'll wishes as I go through this medical journey. Waking up daily to monitors, wires and machines keeping you stable is a new experience."
"I have a very humbling, newfound respect for the #Nurse's #RN's & #Doctor's that are are on the #frontline and there around the clock making certain that all is well. #Respect #InternalMedicine #MtVernon4Life #AllPraiseisDuetoAllah"