Megan Thee Stallion Drops Jaws In A Skintight Sheer Mini Dress From A Black-Owned Fashion Brand
She brightened up our day in this dress!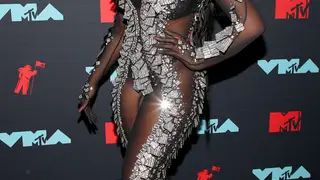 Black fashion designers have made huge strides in the industry. If you're looking for a way to support artists of color, shopping from Black-owned clothing brands might be a good place to start. Whether they focus on sleek ready-to-wear, straight-up high-fashion gowns, or streetwear, designers of fashion brands like Cushnie, Laquan Smith, and Telfar truly take creativity and art to a new level.
With iconic looks from wedding gowns to street wear, we've created a list of must-know Black designers from past to present.
Armani's Closet

A week ago, Megan Thee Stallion left fans scrambling to find the skin-tight patterned mini dress she wore while dropping a few bags at a strip club.  

Unfortunately, we soon learned that the look styled by NoIGJeremy was sold out. However, we do know that the multi-colored "Get Trippy Dress" dress was created by the Black-owned brand, Armani's Closet. 

To see more fashionable looks from the brand, check out their website. 

sai sankoh

Gabrielle Union-Wade brighted up our timeline twirling in this orange floor-length zebra print shirt dress. Gab always represents for the culture and supports Black-owned businesses. The dress is by a Black designer named Sai Sankoh ($195). 

You can grab the gorgeous dress here!

Jabrea Savanna

Summer Walker supported Miami based Black-owned Jabrea Savanna. The Songstress posted a series of photos to Instagram wearing a sheer houndstooth print top and leggings ($120). Fans of hers loved the look so much, they asked where to find it. 

Jabrea Savanna sells trendy corsets and two-piece sets that the girls are loving it. 

Loudbrand Studios

Loudbrand Studios is a Black-Owned British brand that specializes in trendy ready-to-wear dresses. Kylie Jenner wore their $300 Vashtie dress on vacation. 

Support Black Colleges

Support Black Colleges is a clothing line who's sole mission is to uplift, inspire & encourage others to Support HBCU's. SBC was founded in 2012 by two Howard University students who saw a need to spread awareness about the school that changed their lives.

Celebrities such as Teyanna Taylor, Missy Elliott, and Eva Marcille have been spotted rocking the brand. Each year the SBC team employs over 70 college ambassadors & gives thousands of dollars in scholarships. 

Almost.On.Time.

Almost.On.Time is a Black-owned brand that specializes in crafting corsets out of recycled materials. 

Kayla Sade, the young woman behind the brand created the platform to showcase her work as she experiments with reconstruction of pre loved garments and second hand materials. AOT reconstructed garments are inspired by feminine silhouettes, sports and streetwear made in her San Francisco studio. Styles are priced from $150-$450.

Tracy Reese

After graduating from the Parsons School of Design, Tracy Reese took the fashion industry by storm. She launched her own ready-to-wear label, noted for its femininity and retro-influenced styles, and grew to have her designs worn by Michelle Obama, Beyoncé and more. In 2007, Reese joined the Council of Fashion Designers of America committee, becoming its only African-American member. She has since expanded her design sizes, becoming more inclusive to all women. 

Dapper Dan

Daniel Day, better known as Dapper Dan, is a Harlem native known for his fusion of hip hop and high fashion. After opening his own store, Dapper Dan's Boutique, in 1982, the designer was able to land high-profile clientele including Jay-Z, Eric B. & Rakim and Salt-N-Pepa. With a signature of using luxury brands like Fendi and Louis Vuitton, Dan was able to define an era of hip dop chic. 

Ann Lowe

Ann Lowe's beautiful designs were a favorite among high-society women from the 1920s to the 1960s, helping her to become the first mainstream African American fashion designer. She created designs for a number of prestigious families leading up to her most notable 1953 design of Jacqueline Bouvier's ivory silk chiffon taffeta wedding dress for her marriage to John F. Kennedy.

Kerby Jean-Raymond

After his first apprenticeship at only 14 years old, it was clear Kerby Jean-Raymond was going to be a fashion icon. Founder of label Pyer Moss, he dominated during his 2016 New York Fashion Week show for his references to the Black Lives Matter movement and police brutality through a mix of fashion, video and street art. In 2018, he won the top prize at the fifteenth CFDA/Vogue Fashion Fund awards, and was named to the Forbes 2015 30 Under 30 art and style list.

Zelda Wynn Valdes

Zelda Wynn Valdes is one of the most influential costume designers in history who you've probably never heard of. She's credited with creating the original Playboy Bunny costume that debuted in the 1960s in Chicago. Valdes's dressmaking studio, Chez Zelda, was the first Black-owned business on Broadway when it opened in 1948, and she went on to create designs for Gladys Knight, Dorothy Dandridge and Eartha Kitt.

Patrick Kelly

Patrick Kelly came to fame in Paris when he made history in 1988 as the first American to be admitted to the Chambre Syndicale du Prêt-à-Porter, France's pretigious governing body of ready-to-wear. The Mississippi native's unique and playful designs, which referenced Black folklore and humor, led to his designs being sold to Hollywood stars including Cicely Tyson and Grace Jones.

Olivier Rousteing

Known for his social media engagement, French fashion designer Olivier Rousteing is breaking boundaries. Appointed to the top of Balmain in 2011 at age 24, he became the youngest creative director in Paris since Yves Saint Laurent. Rousteing is also a strong advocate for diversity within the fashion industry, which has increased his international customer base. In 2018, he created three couture pieces for Beyoncé's Coachella performance.

Carly Cushnie

Carly Cushnie has been a fashion go-to for quality and artistry for the past decade, known for her sleek, elegant designs. She cofounded the luxury women's wear line Cushnie after graduating from Parsons School of Design in both New York City and Paris. The visionary creative has designed garments for Beyoncé and former First Lady Michelle Obama, among others.

Romeo Hunte

Brooklyn native Romeo Hunte is proof that making connections goes a long way. Beginning his career interning at Prada while in school at the Fashion Institute of Technology, he was able to take on numerous styling gigs before landing a design opportunity with Zendaya in 2015. Meeting more stylists and celebrities, Hunte gained traction and has since had Beyoncé, Winnie Harlow, Lupita Nyong'o, and Laverne Cox wearing his designs. In 2019, Hunte showcased his first Men's Ready-to-Wear collection in New York City. 

LaQuan Smith

LaQuan Smith, founder of his namesake womenswear clothing brand, had a rough start in the industry after not getting accepted to either the Fashion Institute of Technolody or Parsons School of Design. Choosing not to let that get him down, Smith shadowed several stylists while working on his own craft before making his New York City Fashion Week debut at 21 years old. His bold designs have since captured the interest of celebrities like Winnie Harlow, Beyoncé and Rihanna.