Snoop Dogg: After Boxing Commentary for Tyson-Jones, Rapper Wants 3 Year Deal
He also has three networks in mind to do so on.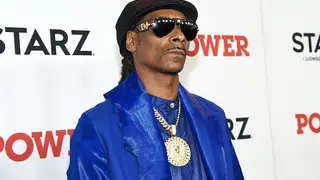 Snoop Dogg hears everyone clamoring for him to become a professional sports commentator. The legendary rapper has revealed just how much money he'll need to do it. 
Snoop Dogg stepped in for Lil Wayne and served as a commentator during the recent Mike Tyson and Roy Jones Jr. fight. He was the most entertaining part of the night, offering his trademark brand of comedy that had fans cackling and reciting jokes all night. 
Now that it's over, everyone's been quick to let the world know that they want to see Snoop Dogg in more of this facet. The rapper took to social media to let the world know what he would need to become the commentator that they want to see. 
In an Instagram post, Snoop Dogg listed his demands:
"Someone sign Snoop Dogg to a multi year contract," the post reads. "He's a natural commentator. He's Barkley on steroids. He's hilarious! 3 years for $15 million? Who'll make the call?"
The post then tags ESPN, Fox Sports, and TNT as the three networks that he wants to make this happen with. 
Will that happen? That remains to be seen. But judging by the reaction that the rapper got when announcing, it's clear that there are many people who want to see that happen. 
Check out Snoop Dogg's post up above.