Report: Suicide Likely in KayO Redd Death
Redd died of a self-inflicted gunshot wound, police say.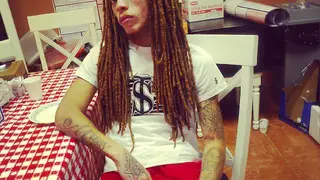 The weekend death of KayO Redd was likely a suicide based on an alleged tweet from older brother Waka Flocka Flame and a TMZ report. 
Investigators from the Henry County Police Department say Redd, an aspiring rapper born Coades Scott, was found dead of a self-inflicted gunshot wound in the Georgia subdivision where he lived on Sunday (Dec. 29) night. An autopsy is believed to have taken place yesterday. 
According to celebrity blog StraightfromtheA.com, Flame confirmed the suicide, writing, "MY F-----G LIL BROTHER KILLED HISSELF," Sunday afternoon before deleting the post and leaving up a tweet asking God to "please bless me" as well as a tribute to his younger sibling.  
Redd remained active on Twitter leading up to his death, sending out a final tweet promoting his Redd Kisses mixtape hours before taking his life. In an older post, he marked the two-year anniversary of fellow Brick Squad crew member Slim Dunkin's 2011 shooting death, writing, "This is not one of my favorite days of the year top 5 worst days in my life DUNK DAY is everyday Long Live Slim Dunkin #LLDunkin."  
With Redd passing away, Waka and family are once again working through an emotional time. And sadly this isn't the first time momager Deb Antney has lost a child. Another son was killed in a car accident and Flame — who was a teenager at the time — faulted himself for the death, Antney said in a 2010 Vibe.com interview. "My son was killed in 2000 and Waka was like 13 years old, going on 14, and it was hard, " she recalled. "He hated everything dealing with school because my son, his death was a sneak out the house to go help a kid with his homework before his father came home so the kid wouldn't get a beating. Waka told him to go, he'll cover for him. So [when he was biking home and killed by a car] Waka blamed himself. He feels very responsible for my son's death — that's what flipped him out."
As for how Waka is dealing with this latest tragedy, the 27-year-old hasn't made any new public statements since Redd's death aside from tweeting a series of dots earlier this morning.
BET.com is your #1 source for Black celebrity news, photos, exclusive videos and all the latest in the world of hip hop and R&B music.  
(Photo: KayO Redd via Instagram)