Charlamagne Says 'Mute Tyrese For The Culture,' Twitter Responds
Has Tyrese been doing too much talking lately?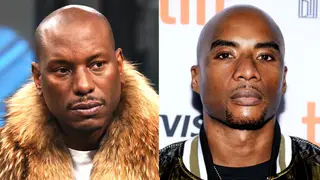 Tyrese has been in the media quite often in recent weeks regarding his vicious custody battle with his ex-wife Norma Gibson. While legal matters seem to have worked themselves out —  Tyrese was eventually granted 50/50 custody — many continue to wonder if Tyrese has been discussing too much of his personal business publicly.
Most recently, the singer went on The Rickey Smiley Morning Show in Atlanta and revealed that he only married the mother of his child so that she would become a United States citizen.
As you can imagine, the internet was pretty taken aback by Tyrese's revelation, and as with anything controversial in the culture, The Breakfast Club's Charlamagne Tha God had something to say. Just like most commentators in 2017, he took his opinion to Twitter:
Whether you are in favor of muting Tyrese for the culture or not, we can probably all agree that it's great he gets to make up for lost time with his daughter and is now in what appears to be a happy marriage.
Many responded to the thread and agreed that silencing Tyrese is probably optimal at this point.


Some Twitter users, on the other hand, were not feeling Charlamagne's tweet at all.