Tracy Chapman To Become the First Black Woman to Score a Number One Country Song as Sole Writer
The hit song is a remake of Chapman's 'Fast Car' by country star Luke Combs.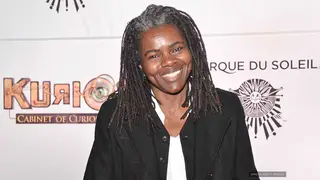 The 1988 hit song "Fast Car" by Tracy Chapman is getting new life in the form of a remake by country music star, Luke Combs. According to Rolling Stone, the new version is flying up the Billboard charts and is expected to hit Number 1 next week.
The hit will make Chapman the first Black woman to have a number-one hit with a country song as the sole writer.
Several Black women have co-writing credits on country music hits. Alice Randall was first contributing to Trisha Yearwood's 1994 single "XXX's and OOO's (An American Girl)." In 2020, songwriter extraordinaire Ester Dean had a #1for her credit on Lady A's "Champagne Night," in 2021, Tayla Parx (Ariana Grande, Kesha) earned one for co-writing Dan+Shay's "Glad You Exist."
Parx complimented Chapman telling Rolling Stone, "Any song that sounds good on guitar, it can more than likely be a country song. With a great song, you can take it and make it sound like seven different genres, so that says a lot about what type of song 'Fast Car' is: it can be a pop song, a country song, it can be whatever, because it's just a great song."
Combs released "Fast Car" on his studio album, Gettin' Old. He said that he chose to record it after getting a strong fan response after posting a video of himself singing the song during the coronavirus pandemic. "The guitar part on that song is super iconic, and everyone knows the song as soon as you start playing it," he added, "They know it, and they sing along. It's like 'Free Bird' or 'Jolene.'"