Hugh Jackman on Police Brutality and Rapping With T.I.
Chappie star talks his new film and his hip hop moniker.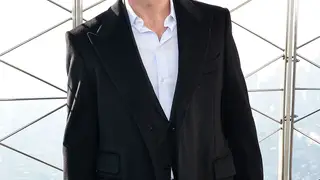 Hugh Jackman's new film Chappie may seem like an exercise in Hollywood cynicism — think Minority Report meets I, Robot — but the film actually has some pretty relevant messages about the militarization of the police force. 
We sat down with the Australian A-lister to talk about the film, about a robot that develops human feelings, and whether a robotic cop who never lost his cool would be better in a tense situation than a flawed but emotionally complex human. "The point my character tries to make in the film is, you can't send someone into [a tense situation] who doesn't have a moral compass," reasons Jackman.
The actor also talks about his stint on Broadway with T.I. and LL Cool J (in The Music Man) and reveals the moniker T.I. gave him as his rap name. 
Check out our exclusive interview with Hugh Jackman below.
BET.com is your No. 1 source for Black celebrity news, photos, exclusive videos and all the latest in the world of hip hop and R&B music.
Click here to subscribe to our newsletter.

(Photo: Slaven Vlasic/Getty Images)