2023 NAACP Image Awards: Let Smirnoff's Blue Raspberry Lemonade Seaside Fizz Add Some Zest To Your Cocktail Collection
From its striking blue hue to its carefully crafted flavor, this drink will transport your taste buds to your happy place.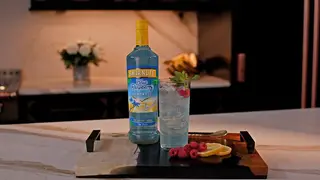 If you like coloring outside the lines, then we've got a drink for you. Smirnoff's Blue Raspberry Lemonade Seaside Fizz is a refreshing and flavorful cocktail that combines the tangy taste of lemonade with a sweet bite of plump blue raspberries. The flavors come together to create a drink that's not only visually stimulating but pleasurable to your palate as well.
Imagine yourself sitting on the beach, the sun beating down on your skin, and you're in desperate need of a cool, refreshing adult beverage to quench your thirst. Whether that's your reality or just your daydream, you can reach for Smirnoff's Blue Raspberry Lemonade Seaside Fizz, and it will transport you to a tropical paradise. To make the moment perfect, add the sounds of some of this year's NAACP Image Awards nominees Mary J. Blige, Coco Jones, or Steve Lacy to your special moment.
It's not just the taste that makes this drink incredible. The gorgeous color really catches your eye and makes you think of ocean waves. The deep blue of the raspberry and the lemonade blend to create a vibrant and picture-worthy cocktail.
Smirnoff, known for crafting cocktails infused with bold flavors, also made this pretty easy to make. Just use Smirnoff Blue Raspberry Lemonade, lemonade and top it off with the effervescence of club soda. For an extra kick, feel free to add a shot of the original Smirnoff No21Vodka for a little something extra.
Check out the recipe below:
2 oz Smirnoff Blue Raspberry Lemonade Vodka
Garnish: Raspberries/Mint
Add all ingredients into a highball glass filled with ice and garnish
So, what are you waiting for? Grab a glass, mix up a Blue Raspberry Lemonade Seaside Fizz, put your feet up and let yourself be transported to that tropical paradise with every sip. Trust us, your taste buds will thank you.
---
The NACCP Image Awards 2023 premieres Saturday, February 25 at 8 pm ET/PT on BET and BET Her. Share responsibly. Don't share alcoholic recipes with persons who are not of legal drinking age. Smirnoff No. 21 Vodka. Distilled from grain. 40% ALC/Vol. The Smirnoff Co., New York, NY.