Black Music Honors Paid Tribute to the Past and Present
The celebration presented Missy Elliott, SWV, Evelyn "Champagne" King, Jeffrey Osborne and The Hawkins Family with top prizes.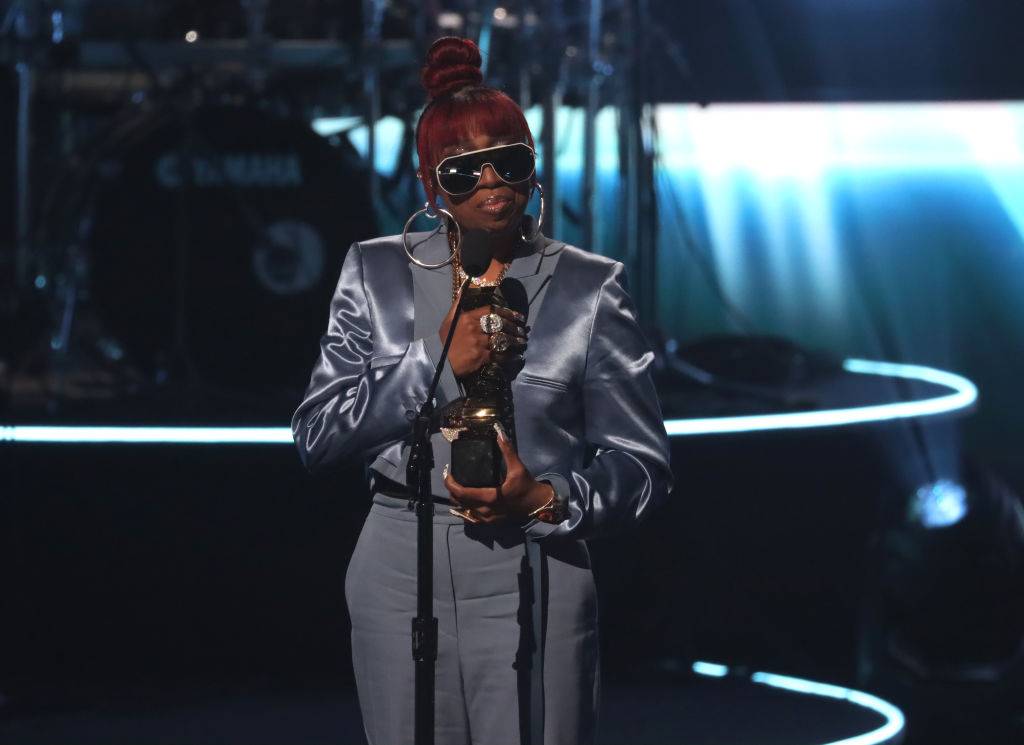 Friday, May 19, in Atlanta was all vibes that took us back to the days when hip-hop soul dominated the airwaves and the family got up to clean the crib on Saturday morning.
The eighth annual Black Music Honors was held at Cobb Energy Performing Arts Centre to celebrate the accomplishments and contributions of Black musical excellence to the culture. The two-hour special recognized multi-talented entertainer Missy Elliott (Music Innovator Icon), female R&B vocal trio SWV (Urban Music Icon), veteran singers/songwriters Jeffrey Osborne (Legends Award) and Evelyn "Champagne" King (R&B Music Icon), and inspirational dynasty The Hawkins Family (Gospel Music Icon). Hosted by Letoya Luckett and DeRay Davis, Black Music Honors is broadcasting just in time for Black Music Month, premiering on the Stellar Network  on June 3, followed by national syndication from June 10 - July 2, and Bounce TV on June 19.
"We felt the void of honoring these Black music legends," Black Music Honors executive producer Don Jackson said. "Atlanta has the environment for this program. This is where brothers and sisters appreciate that, and it's just tremendous."
Elliott received her flowers through a tribute performed by Tweet, 702, Sevyn Streeter and Lady Wray featuring songs the highly sought after, multiple Grammy winner wrote and produced for them and other female acts like "Oops (Oh My)," "Where My Girls At," "One In a Million," and "Make It Hot." Even Da Brat showed up to spit her hot 16 she laced on "Sock It 2 Me."
Despite gospel singer Le'Andria Johnson's three attempts doing Fantasia's "Free Yourself" as part of the medley that was later given resuscitation by Lil Mo, the future first ever femcee that's heading into the Rock and Roll Hall of Fame was soaking up sharing the stage as a legend herself with some of her musical heroes.
"I didn't even wanna be an artist," Elliott, also the first ever female rapper inducted in the Songwriters Hall of Fame, said during her acceptance speech, "so to be standing up here with those people is a blessing because those are the people that I listened to. I've been through depression and many times have wanted to give up, but it's been such an amazing year for me. I'm so humbly grateful."
SWV's now three-decade career as a vocal powerhouse was given its due by Jacquees and Queen Naij, opening with a performance of "You're Always On My Mind." Streeter, Shelea and Lil Mo brought the house down with their version of the dynamic best-selling threesome's chart-topping ballad "Weak." Earning one of the evening's top awards was one of those career-defining moments the stars of the controversial Bravo reality series SWV & Xscape: The Queens of R&B had been anticipating since they arrived onto the scene in 1992.
"It means the world to us," member Cheryl "Coko" Gamble said. "We've been waiting for this for a long time. We're so excited, we're happy, and we're honored."
The old school got some love. King's thrusting, danceable grooves were updated by newcomer female vocal group The Shindellas ("Shame"), singer Elle Varner ("I'm in Love") and Xscape member LaTocha Scott ("Love Come Down"). Osborne's unforgettable croons got a reminder of its influence from male singers Dave Hollister, Kenny Lattimore ("Where Did We Go Wrong") and Raheem DeVaughn ("Love Ballad").
Paying respects to late songwriter/producer Kashif and songwriter Paul Laurence, King, like Elliott, appreciates being recognized alongside a range of Black musicians 46 years after releasing her debut single, "Shame," as a teenager.
"To see us excited, enjoying each other, being beautiful, and knowing that we can honor each other is a blessing," the Bronx, NY-born, Philadelphia-raised recording artist said, "but we gotta remain humble in it all because we can lose ourselves as well. I know where I come from."
Osborne, who led the 1970s funk/R&B outfit L.T.D., was petrified when he launched his solo career exactly 40 years ago with the release of his self-titled debut album. It still shocks the "On the Wings of Love" singer that he became a household name absent from the band synonymous with classics like "Back in Love Again" and "Love Ballad."
"It happened really quickly, but I don't think anybody knew my name," Osborne said. "They knew L.T.D., but they knew my voice. This honor means a lot. It's really special. I didn't realize how special this was. It's amazing, and I'm very appreciative."
Kevin Lemons and Higher Ground, Tina Campbell, The Williams Brothers and Beverly Crawford each delivered their anointing in homage to the Hawkins Family, whose award was accepted by Tramaine Hawkins and Lynette Hawkins Stephens. Juvenile and Anthony Hamilton also took the stage while pioneering femcee Roxanne Shante delivered some remarks to commemorate the 50th anniversary of hip-hop.
Robin Thicke was also on-hand to perform a rendition of "What You Won't Do For Love" as a tribute to the timeless song's blue-eyed soul singer Bobby Caldwell. "He's another soulful white boy that was an inspiration to me, so I'm really happy and excited to be here to honor him," Thicke said.
Black Music Honors was a dope night and an extraordinary celebration of the contributions from Black musicians. It's full of nostalgic moments that remind each and everyone of us what made us fall in love with music in the first place.