Chingy On Nipsey Hussle's Death: 'Government Always Killing Us'
"Y'all better start paying attention it's about that time."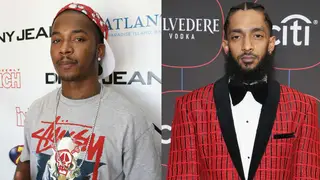 Details surrounding the shooting fatality of Nipsey Hussle, real name Ermias Asghedom, on Sunday (March 31), are still yet to be confirmed and released as fans and friends close to the eulogized hip-hop altruist struggle to wrap their minds around his earth-shattering death.
Currently, no suspects have been identified by the LAPD nor leads on possible motives behind the situation, though several sources have reported that law enforcement suspects gang violence. However, fans and other industry members, such as St. Louis rapper Chingy, have theories of their own. According to the hip-hop veteran and the meme he posted to his Instagram, Nipsey's assassination goes much deeper than a one-off street casualty.
The meme references the late Dr. Sebi, the world's lauded Honduran herbal healer who proposed his cure for AIDS, cancer and other terminal illnesses. The Victory Lap rapper announced in 2018 that he'd be spearheading a documentary on the trial of Dr. Sebi, who held his claims up of herbal curing in the court of law and suddenly died after a 2016 arrest. Regrettably, Nipsey didn't finish the documentary before his devastating fatality, and several people, including Chingy, are convinced that his death is part of the government's elaborate plan to ensure he never would.

The meme shows two split images of Nipsey and Dr. Sebi

"Nipsey Hussle is working on a documentary that will narrate Dr. Sebi's train in 1985," it reads. "Dr. Sebi claimed in a New York newspaper ad that he could cure AIDS and was allegedly executed by way of U.S. medical corporations because his AIDS remedy would take away from their own profits." Chingy supported this claim in his caption, suggesting that the "gang-related" rumors of Nipsey's death are red herrings. "See y'all may think this has to do with sum street sh** but I acutally think it has to do with the documentary he was doing," he wrote. "Governement always killing us and y'all better start paying attention it's about that time."

And he's not the only one who's sure of this theory either….