Michigan Grieving After Body Of 2-Year-Old Girl Found Slain
Wynter Cole Smith was found dead after a three-day search by authorities.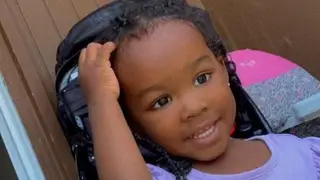 At a news conference on Wednesday evening (July 5) , FBI Acting Special Agent-In-Charge Devin Kowalski confirmed that the body of two-year-old Wynter Cole Smith was discovered by the Detroit police officers on the east side of the city.
"This is not the outcome we were hoping for," Kowalski said on Wednesday, accompanied by Detroit Police Chief James White. "Our hearts go out to Wynter's family."
According to the report, the authorities said that Rashad Trice, 26, kidnapped Wynter on Monday (July 3) from her mother Symari Cole's home in Lansing, which prompted an Amber Alert. Her mother had been sexually assaulted, authorities say.
Lansing police traveled through fields and neighborhoods and used drones and helicopters in pursuit of Trice. After the alert was issued, local police, several agencies, and numerous volunteers were dispatched throughout the state. Eventually, he was tracked down by law enforcement through his cell phone and discovered the route he was driving.
Trice had fled southeast into Detroit's suburbs in a stolen car and was eventually arrested and taken into custody in St. Claire Shores, Mich., but Wynter was not with him when he was caught. He was arraigned Wednesday at a Detroit area hospital where he was treated for injuries he sustained after colliding with a police car.
He was charged with several other felonies including the stabbing and assault of Cole, who he had dated in the past. He is not Wynter's biological father.
Condolences, prayers, and calls for justice poured in on social media as the community comes to terms with such a heartbreaking loss
"So heartbroken right now. This literally makes me sick. This guy shouldn't have even been out on the streets. Our criminal justice system MUST do better. Shame on you all. The only thing giving me peace is I know that he will get what's coming to him behind those bars. Prayers to this poor family. Lansing residents let's pull together for this family. I know we are all heartbroken. RIP sweet baby," Amanda Heller posted on Facebook.
"It is easy to judge humanity on the actions of one evil person," the Michigan State Police tweeted. "I refuse to do so, as should you. We are better than the actions of one evil person. May God bless and keep you Wynter. We wish your family peace. We are heartbroken."
If convicted, Trice faces life in prison.