Who's The G.O.A.T.? YMCMB vs Grand Hustle | Round 1
In the tournament to decide the greatest rap crew of all time, this Round 1 battle is between the Young Money Cash Money Billionaires and Grand Hustle.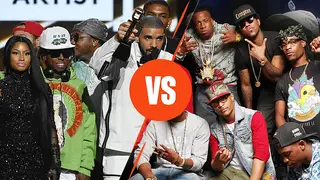 In recognition of hip hop's 50th anniversary, BET Digital, in partnership with Ambrosia For Heads, is celebrating the culture by hosting a bracket-style competition that allows you to determine hip hop's greatest crew.
Rather than having "experts" tell you who is the greatest of all time, this is your opportunity to collectively make that decision. After giving the opportunity to any and all fans to provide feedback on which crews should be included, 32 collectives from different regions, styles, and generations have been selected—all vying for that #1 spot. When the final battle is over and the last vote is cast, you will have determined who is your Greatest Rap Crew of All Time.
Over the last 20 years, Lil Wayne and T.I. have competed and collaborated. Long before "Swagga Like Us," both artists became dominant voices in rap, thanks to great albums and acclaimed mixtapes with DJ Drama. While Weezy was a product of a movement years in the making with Cash Money before assembling his Young Money cohorts, T.I. curated a crew around him that was built to last. 
Those crews have made history together, with Travis Scott and Drake's "Sicko Mode" being one diamond-certified example. YMCMB and Grand Hustle have weathered the storm and evolved as crews through changing trends and styles. Both brands transcend music and represent aspirational lifestyles and loyalty as they grab talent from around the continent and represent together as family. Two titans square up in this Round 1 matchup as YMCMB faces Grand Hustle.
YMCMB
Few crews, if any, can say they spawned a second wave as successfully as YMCMB. Cash Money Millionaires introduced themselves to the mainstream "as an army" in the late 1990s, with The Hot Boys and Big Tymers combining their fame while flaunting their fortunes in flamboyant style. Cash Money stood apart through luxury car convoys, matching chain medallions, and using hometown slang over booming bounce beats. 
The collective showed out on the seven-times-platinum "Bedrock," "Only," and "I Made It (Cash Money Heroes)." This crew's love has extended to other Young Money Cash Money Billionaires, including Tyga, DJ Khaled, and the Rich Gang collective. Over 20 years after Cash Money's initial breakthrough, Juvenile and Cash Money co-founder Birdman's collaboration album showed that loyalty is royalty.
Grand Hustle
T.I. wasted no time assembling a crew around him during his 2000s ascent to becoming a leading rapper. Starting with P$C and Young Dro, Clifford Harris curated a team from in and around Atlanta's Bankhead section. Those initial Grand Hustle acts earned plaques and attention—including on Dro and Tip's double platinum mid-2000s hit "Shoulder Lean." T.I. added DJ Drama, who had helped cultivate his rise through Gangsta Grillz mixtapes, into the mix. 
Veterans also tapped in; longtime collaborator Killer Mike maintained that chemistry on "Ready Set Go" and "Big Bang." While three different Grand Hustle artists have topped the charts, some of the crew's most tight-knit work appears on a prolific offering of mixtapes, including the "G.D.O.D. (Get Dough Or Die)" series. The Hustle Gang, as the early 2010s knew them, stretched to include Iggy Azalea and Shad Da God, as well as a team of producers and other creatives. As T.I. campaigned as "King Of The South," the superstar built a royal crew around him for nearly two decades.
In this celebration of hip hop and all of its talented crews, your vote decides the winner.
---
EDITOR's NOTE: Register for the sweepstakes for a chance to win the grand prize of (2) two tickets to the 2023 BET Awards,(2) two round-trip airline tickets, and a 2-night hotel stay on June 25. Up your chances to win by voting weekly.
NO PURCHASE NECESSARY TO ENTER OR WIN. VOID OUTSIDE OF THE 50 U.S. & D.C. AND WHERE PROHIBITED BY LAW. Open to legal residents of the 50 U.S. & D.C. who are 18 years of age or older at the time of entry. Ends at 12:00 p.m. ET on May 1, 2023. Official Rules: bet.com/grcoat-official-rules. Sponsor: Black Entertainment Television.