MC Lyte Co-Curates Planned Parenthood Playlist to Encourage Women to Vote
Don't forget to go to the polls on Nov. 4.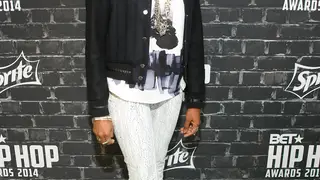 Who knew Spotify could get so political?
Well thanks to Planned Parenthood Federation of America, rapper MC Lyte and DJ Samantha Ronson, it just did.
This collaboration is just another element of the highly visible Women are Watching Campaign, an initiative to let politicians know that women — regardless of age, race, ethnicity, sexual orientation and gender identity — are paying attention to their stance on the issues that affect women. So whether it's access to birth control, abortion rights, other sexual health issues, and equal pay for women, Planned Parenthood is educating women on knowing what is going on.  
"Women of color are pivotal in determining the outcome of this election. I know how important it is to empower my community to get out the vote and what better way to do that than with my favorite female powered music tracks?" said MC Lyte.
She adds, "Working in a male dominated field, I've never succumbed to pressure because of my gender and I'm certainly not going to start by letting politicians have a say in what I do with my body this Election Day. And neither should you."
"It's hard to believe we're still living in a time when some politicians believe they should make decisions for women about birth control and basic health care.... We have to vote like our access to birth control and basic health care is on the line this year — because it is," Union said. 
Leyva echoed these sentiments. "We need to make our voices heard and send a message loud and clear that we refuse to let politicians take us back."
— Educate yourself on the issues and spread that knowledge to others.
— Register to vote AND go vote on Nov. 4!
— Join the discussion on Twitter! Follow Planned Parenthood's new handle dedicated to African-Americans at @PPBlackComm. 
BET Health News - We go beyond the music and entertainment world to bring you important medical information and health-related tips of special relevance to Blacks in the U.S. and around the world. Click here to subscribe to our newsletter.
 (Photo: Bennett Raglin/BET/Getty Images for BET)