Tammy Rivera & Waka Flocka Share Photos Of Their Gorgeous Mexican Wedding Ceremony... Five Years After Tying The Knot
Beautiful!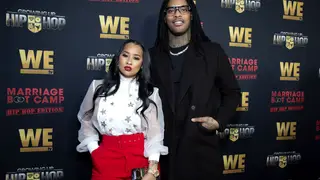 Tammy Rivera and Waka Flocka have certainly had their ups and downs. Last week, on the premiere episode of Marriage Boot Camp: Hip Hop Edition, the rapper Waka revealed his wife had fits of rage she had that included guns. Nonetheless, things appear to be sane now. The couple dropped photos of their beautiful wedding in Mexico.
Congrats again to Waka Flocka and Tammy Rivera!
It took them 5 years to have a wedding ceremony but it finally went down in Mexico. See the beautiful pics in the slide show below: