Kobe Bryant Shades Master P Over Lamar Odom Accusation
Percy said the NBA player visited former teammate for publicity.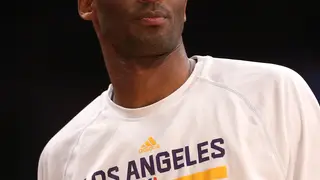 Yesterday, Master P accused Kobe Bryant of keeping vigil at his former teammate Lamar Odom's bedside not out of concern for a friend, but for the publicity. A cynical claim, if we ever heard one. Well, Bryant seems to feel the same way, and took to Twitter to address P. Miller's comments without ever referring to the hater himself.
"When WE feel the need to question the support of others in moments as critical as a life hanging in the balance, then we must question the kind of culture we have created that has led US to such insensitive suspicion," Kobe tweeted, with the hashtag, "#JustPray."
As previously reported, Bryant walked out of a pre-season game in Las Vegas in the third quarter upon learning of Odom's condition, and went directly to the hospital to be at his side. Percy later called BS on the move, saying Kobe didn't step up and help Odom when he could have been saved.
That's a lot to put on someone, dude. Addiction is complicated and if Odom's own wife and children couldn't help him get through it, we doubt anybody could have. Indeed, Kobe told us at this year's BET Experience Genius Talks that he was in regular contact with Lamar. 
See Kobe's tweet below:
Watch a recap of the tragic events of the last few days, below:
BET.com is your No. 1 source for Black celebrity news, photos, exclusive videos and all the latest in the world of hip hop and R&B music.