Stephen 'tWitch' Boss: I Got Used to Racial Profiling
The Magic Mike XXL star gets serious with us about race.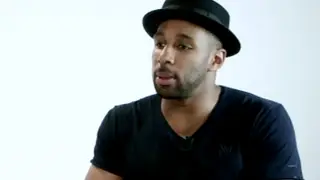 Magic Mike XXL features a sea of oiled-up, muscle-bound and shirtless men, yet Stephen 'tWitch' Boss manages to stand out. Not only is he the only dancer in the film to go up against Channing Tatum ("Pony" is a tough act to follow!), but he also brings some much-need chocolate to the stripper franchise.
We sat down with tWitch to talk about some serious matters involving race and diversity not only in the world of adult entertainment, but the world-at-large. Those tempted to just classify tWitch as a talented piece of eye candy will be surprised: he has a lot to say on the subject.
"As a Black man, you have to carry yourself differently," he admits, before adding that he tells his sons that the things they wear and how they behave could have unintended consequences. "That being said," he continues, "we actually do have the platform of the media, to be examples and to stop glorifying the behavior that continues to get us in these places, things like gangbanging..."
But it's not all serious with tWitch. We also got silly with the actor and dancer about his skin-baring role in the summer's best fantasy film (amiright, ladies?) and asked him to cast a hip hop version of Magic Mike XXL. Watch the fun here and look below for tWitch's honest and constructive thoughts on race in America.
Magic Mike XXL is in theaters now.