Andre Benjamin on OutKast: 'That Ship Has Sailed'
The rapper and actor talks limitations in music and portraying Jimi Hendrix.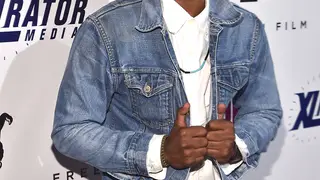 Andre Benjamin might be quiet on the music front, but the OutKast frontman is garnering rave reviews for his portrayal of the late, great Jimi Hendrix in the biopic All Is by My Side. The late guitar god changed the landscape of rock music, but his journey was cut short when he died at the age of 27. Written and directed by Oscar winner John Ridley, who penned the screenplay for 12 Years a Slave, the film examines the life of the "Purple Haze" singer before he became a star. 
Here, Benjamin talks to BET.com about becoming Hendrix, the future of OutKast and fame in 2014. 
How has playing Jimi Hendrix changed you?
Not much, to be honest. People have asked that question, "Has it given you anything?" I've learned a couple of more chords — that's about it. Really, it was just a great experience. I can't say I took a lot away from it. I can't say I took away some big, life-changing thing.
Jimi Hendrix is one of the first Black artists to be accused of not being Black enough — and even to this day, Hendrix isn't as embraced by the Black community. Why do you think there is a disconnect?
It's funny you say that...I have no idea. Even to this day, most Black people don't like distorted guitars. If it is a sweet tone, they can deal with that but something about the distortion that kind of throws Black people off a lot. Depending on who you are, some Black people...I love it, [but] the majority of Black people, it's kind of like a dissonant sound that does not work in some kind of way.  
Jimi Hendrix appeared to be uncomfortable with fame. I get the sense you are, too.  
Yeah, it's odd...I think it's a personality thing, too. I think some people are built for it. I know friends, I know entertainers, they are just outgoing. They love it because that's their personality. I think it's how you grow up. I grew up an only child. I wasn't the cool kid in school. Once I got the attention...that energy coming to you, it kind of throws you off, especially in this day and age. It's so intense. The whole industry is built on people following you around and taking pictures or people trying to film you or people trying to TMZ you. It has become a biting industry. It's not good for people. I don't think it's good for entertainers. I don't think it's good for the whole music industry at all because it changes whatever you do.  
Imagine if TMZ would've been around in Hendrix's day...
I don't think a lot of people would have made it. I really don't. I don't think we would've got a lot of things that we got. People act differently when they know they are being watched.  
What do you think Jimi Hendrix would've thought of OutKast?
I think he would've thought we were interesting. I don't know if he would've liked us, I have no idea. I would hope he would've liked it, but maybe we would've been too down to earth for him.
Is OutKast a chapter in your life that is now closed or do you see yourself going back to that?  
It's not up to me to close chapters because I'm not God or anything like that. But I can say, as the human side of me, I can say that that ship has sailed because I've done that before and I know how I am as a musician, as a person. I'm excited about new things. I think chemistry is really important. We were OutKast because of the chemistry, because of the excitement for wanting to be in the studio, because of the excitement of wanting to see what we could make. You just get to a point where you want to move on and see what's the next thing. It doesn't mean a confrontation thing at all; it's just a growth thing. Some bands last forever because they're still in it; they're still excited about the chemistry. They are still excited about each other. I'm just personally looking for something else.  
I think it's harder for Black artists to do something totally different. Miley Cyrus can do it, Taylor Swift can do it. Except for Tina Turner, I can't think of many Black artists who were able to totally try something new and be embraced. Do you feel that way?
I do. I think Black people, we want comfort. I think we want to stay comfortable with stuff; we don't like a lot of changes. We just don't and I can understand that but I'm not here to please people in that way. I would hope somebody enjoys what we're doing, but I'm not really upset. I think I'm blessed that I've had success as a young guy. So now, if I sell 50,000 albums or whatever project, as long as I love what I'm doing, I'm fine with that because I've already had a career at this point. If I could sell a couple albums and a couple people come to the show, I could be surfing and help some more people come up in the industry — that's cool with me.  
If Jimi Hendrix lived, where do you think his career would've gone?
It's hard to say because it's hard to go through a lot of ages. The Isley Brothers have probably done it the best; Aretha Franklin has done it in her own way. But, in the end, you have to kind of conform. But a lot of these non-conforming artists, I don't know if they would last because you get left behind if you don't conform. It's kind of hard.  
Was it hard as an artist and actor to not have the Hendrix family support for the film?
It wasn't hard at all. I think it would've been cool if we could've had support from the family. Only in a kind of spirit way to know that they were happy and smiling on board. But from day one, [with] the script that was written, it never required any of that. It probably would've been cool to end the movie on a Hendrix song that people know, but I think [not having their support] was the biggest blessing for us because it forced us to make a different kind of movie. It forced us to get into this part of Hendrix that people don't get to see on YouTube.
BET.com is your #1 source for Black celebrity news, photos, exclusive videos and all the latest in the world of hip hop and R&B music.
Click here to subscribe to our newsletter.

 (Photo: Alberto E. Rodriguez/Getty Images)