Drake Just Made A Big Announcement About His Next Album
He addressed Toronto Raptors fans before last night's game.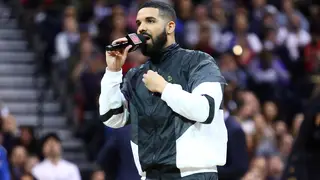 Drake was one of the first to drop a playlist-formatted project rather than an actual album with 2017's More Life. While that effort had its bright spots, fans seem to be clamoring for another Drizzy album.
If songs like "Diplomatic Immunity" or "God's Plan" are any indication of what's to come, we're so ready for a new Drizzy project. Luckily, according to the superstar rapper, new music is on the way.

On Friday (March 9), the 6 God was on-court during the Toronto Raptors vs. Houston Rockets game and dropped some major news.

"I love each and every one of you, I'm happy to be home," Drake told the crowd. "I'm working on this new album for the city. Yeah, that's right. And by the looks of it, tonight, this win streak is over, so let's go get it."

This isn't the first time Drake has mentioned that his next album would be Toronto-centric. Last August, he told fans at OVO Fest that his hometown would be well-represented on his forthcoming music.

"I'm about to go back to making this new album in Toronto just for you," Drizzy said to the crowd. "I'll see you next year, we'll be bigger, we'll be better. I go by the name of Drake, this a OVO Sound ting for life."

Are you ready for some new music from Drake? You feeling this Toronto vibe? Let us know in the comment section below.