Teen CEO Tatiana Leftenant Inspires Girls to Aim High
The creator of Sheascents says she "took a leap of faith."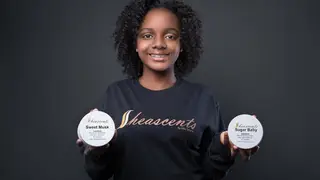 Anyone who thinks you have to be a grownup to launch a successful business clearly hasn't met Tatiana Leftenant. Four years ago, she created Sheascents by Miss Tatiana, a line of all-natural bath and body products made with raw African shea butter.
Now 12 years old, her investment of time has definitely paid off. In 2014, Sheascents grossed an impressive $17,000 in sales. Not bad for an after-school gig, right?
B*Real caught up with Leftenant at the 2015 Black Enterprise Entrepreneurs Summit in Atlanta, where she was honored with the 2015 Teenpreneuer of the Year Award. So, what does she think about naysayers who say kids can't succeed in business?
"I tell them that's not true because look at me. I have my own business and I'm doing great things," she says with a smile.
Leftenant first started using shea butter on herself to help the painful eczema on her arms and legs. "My cousin gave it to me as a healer for [my eczema] and I wanted to help other people," she says.
To do that, with some guidance from her mother, Gilda, she started researching homemade shea butter concoctions online and formulated her own recipe, testing new products on family members and friends in her hometown of Copiague, New York. Soon, Tatiana was working on a business plan, identifying test markets and doing demos of her products at trade events and local shopping malls.
"We just took a leap of faith. We did bigger events and everybody was very receptive; she was very well received as a child starting a business and they enjoyed when she was demonstrating her products one-on-one. That really helped build up a lot of clientele and a lot of followers," Gilda says.
She also maintains she's happy to play the role of "supporting mom" as Sheascents expands. It's Tatiana who chooses everything from the ingredients, free from harsh chemicals and preservatives, to the scents (her favorite is mango). She even designs her own business cards.
This fall, Tatiana plans to roll out a kid's line of shea-based products as well. As for the future, she hopes to attend her mom's alma mater, Hampton University, and says she wants to study land and sea animals as a zoologist when she grows up.  
But most of all, she wants to send the message to young girls that if she can do it, anyone can. "Go for your dreams, don't give up on them," she says. "If you keep heading towards the top, you're always going to get there."

BET.com always gives you the latest fashion and beauty trends, tips and news. We are committed to bringing you the best of Black lifestyle and celebrity culture.
(Photo: RobinLori Photography)
(Photo: Tamara Fleming Photography)