African-American Graduation Rate in Berkeley Surpasses National Average
New data from the California Department of Education shows that more minorities are completing high school in the city compared to the rest of the country.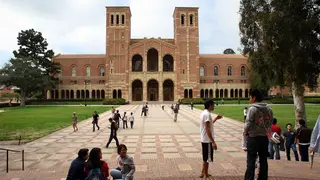 The west side may be the "best side"… if you're talking about education. New data is showing that in Berkeley, California, high school students are completing high school at rates higher than the country average.
Data from the California Department of Education shows that of the 896 high school students that were due to graduate in 2009–2010, 727, or 81 percent, did successfully receive their diploma compared to the national average of 72 percent.
Most notably, African-American students in Berkeley are breaking barriers. Almost 76 percent of Black students successfully completed high school compared to the national average of just 55.3 percent. Almost 82 percent of Latino students in Berkeley graduated, surpassing even the district's overall rate of 81 percent.
"We are doing quite well," Debbi D'Angelo, department of education director of evaluation and assessment said at Wednesday's school board meeting. "Our students are hanging in there, they're graduating, and they're graduating on time."
As outlined by D'Angelo at the meeting, the graduation rate for African-Americans in Berkeley surpassed all but one of the other nine school districts included in the report.
Unfortunately, nearby Oakland has the highest drop-out rate for African-Americans (38.6%) and Latinos (42.4%), compared to Berkeley (20.7% and 15.9% respectively).
Let's hope the academic success of those in Berkeley serves as an example and motivator for those in surrounding communities.
To contact or share story ideas with Danielle Wright, follow and tweet her at @DaniWrightTV.
(Photo: David McNew/Getty Images)