Gilbert Arenas Takes Another Swipe at Lupita Nyong'o Over Her Dark Skin
Take. Several. Seats.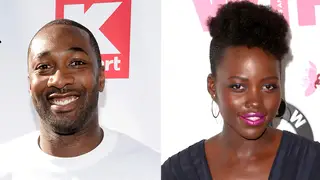 Gilbert Arenas is back on his #TeamLightSkin bullsh*t.
The former NBA player once again fired shots at Oscar winner and all-around badass Lupita Nyong'o over her skin tone.
Nyong'o posted a gorgeous pic of herself on vacay in Mexico looking all kinds of fierce in a white bikini. Someone tagged No Chill Gil in the pic, mocking him for his comments last April when he said Nyong'go would "look better in the dark."
Rather than just hide in shame over his dumb*ss remarks, Arenas decided to double down. He responded to the person who tagged him by repeating his insult.
As for Lupita, her face in the pic pretty much says, "Gilbert, who?"
FOH, Gilbert.
See who Lupita is teaming up with for an upcoming movie with The Wendy Williams Show, above.