Will Smith Reveals An Extremely Personal Detail About His Sex Life In New Interview
He keeps it 100 about him and Jada.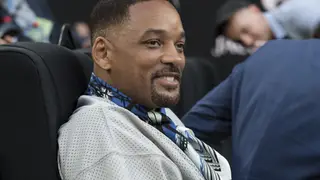 Will Smith entrusted the folks at Rap Radar and Tidal with the most personal details he has ever publicly revealed of his life, and it all revolved around his relationship with his wife, Jada Pinkett-Smith.
In the free range interview, the A-list actor made a revelation about his sex life and his relationship with Jada that may shock some.
Speaking on achieving his personal level of happiness throughout his life, he revealed that all the material things he had while growing in the business never made him happy — not even sex.
"The idea is... I've been to the top of money, I've had all the sex that I've ever wanted, I've had all of the adoration," he said. "I've been to the top of all those material world mountains and nothing makes you happy other than being useful to others. That's it. That's the only thing that ever will satisfy that thing, is that what you're doing is useful."
While speaking on his longtime marriage to the celebrated actress, he explained that their relationship is pretty much unbreakable. In fact, they're on such a higher frequency than most that they don't even use the "married" title, anymore.
"We don't even say we're married anymore," he said. "We refer to ourselves as life partners, where you get into that space where you realize you are literally with somebody for the rest of your life."
While, for several other romantic relationships, there are those few aspects that would automatically cause everything to crumble, he added that they're both far beyond that point.
"There's no deal breakers," he continued. "There's nothing she could do — ever. Nothing that would break our relationship. She has my support 'til death, and it feels so good to get to that space."
Listen to the podcast, in full, below: