Blogger Meechy Monroe Opens Up About Battling Brain Cancer
The beauty and hair writer has undergone two surgeries and will have radiation and chemo.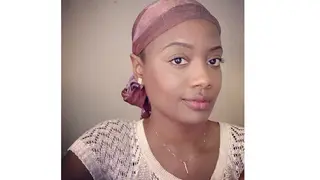 Beloved beauty blogger Meechy Monroe had been pretty quiet lately, leading her followers to wonder what the natural hair and beauty writer has been up to. In an open letter to her fans posted on her site, meechymonroe.com, she reveals that she's been battling a serious health condition.
"I know a lot of you have been asking about me. And I appreciate it. I've been M.I.A. for good reason. Recently, I was diagnosed with a rare brain tumor, a cancerous sarcoma, that caused my world to turn upside down in a matter of seconds. Who knows how strong you have to be until you are faced with so many life changing decisions," she writes.
Monroe suffered the first of three strokes on April 15, 2014, and had to undergo two brain surgeries in three months. The condition: a rare sarcoma, which is a vascular cancerous tumor, in her brain.
"The tumor caused me to suffer multiple mild strokes, which have led to certain physical and speech challenges including an Aphasia diagnosis (a disturbance of the delivery of language – not at all linked to a loss of intelligence). So I'm still the same Meechy! Just with some challenges," she continued.
She shaved her head ahead of treatment and donated her beautiful curls to Locks of Love to help other cancer patients cope with hair loss. Monroe is currently undergoing physical, occupational and speech therapy and will be getting radiation and chemotherapy as well. But despite the battles, Monroe is keeping her head up and maintaining a positive attitude through her recovery. In an Instagram photo posted over the weekend, the first selfie she's shared since April, Monroe gives her followers as a smile as she poses in a head wrap.
"Hey guys! I just wanted to check in and say thank you from the bottom of my heart to all my YouTube subscribers, Twitter and Instagram followers and Facebook likers!" she wrote on the photo's caption. "I have not been feeling very photogenic lately but I will be sharing more now that I'm home and out of the hospital. I have been watching all the activity on the Internet concerning me and it's so overwhelming. You guys are amazing and I feel even more encouraged now than ever before! I thank God for you all. Thanks for caring and praying for me. Thanks for helping my sis @msvaughntv spread the word. I love you guys and I will talk to you guys soon!"
To send her little notes of encouragement, email her at GetWellMeechy@gmail.com or send donations to her medical expense fund.
BET.com always gives you the latest fashion and beauty trends, tips and news. We are committed to bringing you the best of Black lifestyle and celebrity culture.
(Photos: Meechy Monroe via Instagram)