Exclusive: Kid Cudi Shares What He's Most Excited For Fans To Learn About In His Upcoming Memoir
The rapper also talks about how limitless storytelling can be through animation.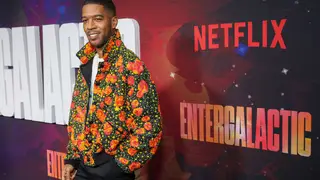 Scott 'Kid Cudi' Mescudi is bringing Black storytelling to life in a different form with his new television special Entergalatic.
The Netflix special follows a young artist named Jabari (Mescudi) as he attempts to balance love and success as he moves into his dream apartment, catching the attention of his new neighbor Meadow (Jessica Williams). The animated event has an ensemble cast including Ty Dolla $ign, Timothée Chalamet,  Laura Harrier, Vanessa Hudgens, Christopher Abbott, 070 Shake, Jaden Smith, Keith David, Teyana Taylor, Arturo Castro and Macaulay Culkin.
BET.com chatted with Mescudi and Williams about the special, the best part that makes people fall in love with them, and one story Mescudi is looking forward to sharing with fans in his new memoir.
BET.com: The reoccurring theme in this television event centers around love; the best love is self-love. What part of yourselves would you say is the best part that makes people fall in love with you?
Williams: When I'm out and meet strangers, many women tell me their secrets [laughs]. There's something about me that does that, and I appreciate it. I can be at a bar, and a lot of women tell me how I remind them of their best friend, and then they tell me about their business, like the guy their dating, their period, and I love that because it's something nice and warm about it — it could be way worse.
Mescudi: I would say my warmth.
BET.com: A New York Love is one of a kind. What kind of love would you like to have and call into your life?
Williams: I'm in my 30s now, and this journey has been about realizing my love is not for everyone, and not everyone has to love me — that's okay. I want to call more self-love into my love, be the best Jessica I can be, and attract more love into my life, honoring that. In your 20s, you hang out with many people you don't want or need to be with. I feel like I'm in a great space with my skincare regimen for self-love; even if I get super drunk, I still do my 15-step skincare regimen.
BET.com: You told a beautiful story about Jabari in this animated special with an album to support it, and now you're looking to tell your own stories in a memoir. What's one story you're looking to share in the memoir that you're excited for fans to learn?
Mescudi: I started writing the first chapter, which begins when I was three years old to eight years. I'm excited to learn about those early days in my life as people don't have those specific details of me living in a household with my three siblings and one parent, losing my father at 11 years, and losing relatives three years in a row. I want to share what it did to my soul and how these things changed me into the man I am today  — how it f***** me up and overcame those situations. People will understand a lot more about the man I am, which is essential. You get news tabloids and speckles of information that you may not necessarily know. I'm in a comfortable place to speak about things and put it all out there.
Watch Mescudi and Williams on their psychedelic adventure, calling in love and success in their new television special Entergalatic, which hits Netflix on Friday, September 30.
---
*This interview has been edited for length and clarity
Ty Cole is a New York-based entertainment reporter and writer for BET.com who covers pop culture, music, and lifestyle. Follow his latest musings on Twitter @IamTyCole.