Lil Nas X Reacts To "Old Town Road" Remix By Rapper Consequence's Son
Lil Nas X wrangled up A-listers for his latest hip-hop rodeo, but it's a 7-year-old kid rapper that's recently caught his attention.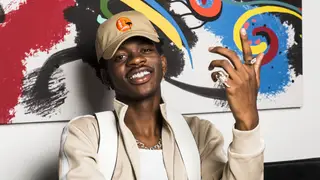 Looks like rap's leading cowboy, Lil Nas X, wrangled up the A-listers for his hip-hop rodeo.
The much-anticipated visual treatment for Lil Nas X's "Old Town Road" featuring Billy Ray Cyrus is finally here. The video, which stars everyone from Chris Rock, Vince Staples, Haha Davis, Rico Nasty, Jozzy, Diplo, Young Kio and more, premiered Friday (May 17).

Almost immediately after its weekend release, celebrities and fans alike took to their social media to recreate their own versions of the "Old Town Road" video and song.

During a recent visit to BET, Nas X had a chance to listen to one fan's remix of his current chart-topper, while giving his honest reaction. Kid-rapper Caiden Mills, the 7-year-old son of hip-hop artist Consequence, remade "Old Town Road," and let's just say—it ain't your average kid's bop.

Caiden kicks off his verse on the popular track with, "Hey Lil Nas X, I'm Lil Next," before dropping a rated-G, hot 16 on the beat:

"That's dope! That's fire,"  Lil Nas X said in response to the sample. "Like you know, anything with little kids, that get involved with my music, or come up to me with something like this, it just puts a smile on my face."

The trap-country rapper, who is no novice to social media influence, went on to explain the importance of leveraging the internet to one's artistic advantage.

"It's the most important thing. It's like, if you don't have anything with the internet going for yourself, and you're an artist, I'm not trying to be rude or anything, but it's like, what are you doing? You have to know how to work [the internet]. Or have somebody do it for you," Nas X explained.

As for advice to aspiring new artists, the newcomer (who also credited Young Thug as one of his creative influences) has a few words for Mills and other aspiring artists: "The best advice I can give is, find your own way. Follow your path, and if you truly believe in it, keep pushing." 

Speaking of pushing, the former computer science major-turned-rapper, opened up about his plans to return to school.

"Music is my number one passion right now, but I'm definitely thinking about going back to school to do something, but not involving computer science... Maybe something in finance, or something like that," the artist revealed.

Also check out the full version of Caiden Mills' "Old Town Road" remix below!